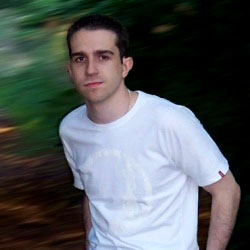 Progressive-Sounds: From writing acid house tracks at a very young age, to your training on violin and piano, music has always been a part of your life. At what point did you realise how serious your passion was, and were there any particular influences which really pushed you to start seriously writing music?
Chris Salt: While I'd been writing music for years on my computer, I really got into DJing at university. I ended up playing at a few large events there (one of the first ones was put on with Slinky and we had John '00' Fleming and Rob Tissera in the main room) and it was playing out that gave me the inspiration to really go for it as a producer. I wanted to develop my sound and start playing my own tracks at gigs. At the time my heroes were the likes of Sasha and Digweed, Hybrid, Way Out West and Satoshi Tomiie. 'Love In Traffic' is probably one of my all-time fave tracks.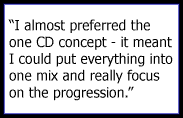 Progressive-Sounds: Your most recent work has been on the highly praised Future House compilation on Kickin Records. How did you get involved with Kickin, and how did the series come about? Also, how much thought went into the tracklist, and what particular angle did you take when selecting the tracks?
Chris Salt: It was basically off the back of the Fear 3 compilation as the mix generated quite a lot of hype and got some good coverage in the dance press. My manager Dave was having a chat with one of his mates at Kickin, and they came up with a concept for a new series on the label. I spent about a month working on a demo for it and Kickin were really into the CD, so we got the deal done and dusted and came up with the title of Future House for the series.
When I was putting it together I wanted to do something a bit different. I had more freedom this time as we were licensing tracks in, and I almost preferred the one CD concept - it meant I could put everything into one mix and really focus on the progression. I wanted to come up with a really eclectic set, something I like to do at my gigs, so the CD showcases everything from chilled house to techy-breaks and more driving tracks towards the end. I also spent quite a while re-editing and re-arranging the tracks to get the build I was after.
Progressive-Sounds: You were recently set back by airport strikes, causing you to miss headlining a major event. How much of a set back was this to you on the whole, and have you had any other gigs of a similar scale since to make up for it?
Chris Salt: At the time I was pretty gutted. I knew where the BA staff were coming from by striking against job cuts, but at the end of the day it prevented me doing my job and flying out to Shanghai. With hindsight it wasn't that much of a setback as I've been rebooked by the club for October, and I've since played at The Gallery and headlined at a cool underground club in Manchester, so it's actually worked out alright!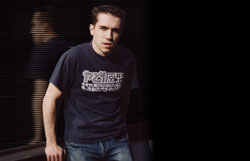 Progressive-Sounds: In the last few years we have seen technology make some rapid advances. In terms of hardware, we have seen the appearance of items such as Pioneer's DVJ, and in terms of software we have seen huge advancements such as the latest version of Ableton Live and Operator. Do you feel this sway towards all things digital is a positive move, and personally what software and hardware do you hold close to your heart?
Chris Salt: Yeah I think it's very positive, the advances in technology are really moving the scene forwards at an impressive rate. Personally I tend to play most of my sets off CD nowadays and I always take my EFX500 along to gigs - it makes all the difference and it's another way of connecting with the crowd. It's good to get to a point where every DJ booth has a pair of CDJs as standard.
As a producer I'm very much a Logic guy, I can't imagine writing tracks with anything else really. For synth work I still swear by my K-Station, and enjoy twisting up the sounds with plug-ins and Logic's effects - they're really top end. As a DJ I put together a lot of re-edits for my gigs using Ableton (usually at the last minute when I'm frantically burning all my latest tracks!) - cutting bars, looping parts, toughening up the drums and adding new layers.
Regarding using Ableton for actually DJing with, I think it depends on how much preparation you do before the gig - there's no doubt you can rock it out with a laptop set. I prefer to play from CDs because I think it gives you a quicker response time for the crowd, and I think it's more of a show if you're not staring at a laptop screen. At the end of the day you can achieve a similar result with hot-cues on CDJs, EFX units and lots of re-edits.
Progressive-Sounds: Over the years you would have come across a wide variety of interesting members of the clubbing generation. More recently, this even involved one crazed fan who took a particular liking to your hand!!! How do you feel about the crowds you play for as a whole, and do you truly believe that it takes all types to create a great atmosphere?
Chris Salt: Haha yeah… I guess I asked for that question by sticking all the photos straight up on my website. That gig was ace though, the booth was full of my mates and the crowd were well up for it! That guy just went mad every time I got on the EFX unit. It was all going well until someone fried one of the CDJs with his beer!
It's all good though, the barmier the crowd the better. I really love interacting with the clubbers and I'd much rather have a crowd that's prepared to react and really let their hair down. A real mixture of clubbers and a good selection of DJs always helps.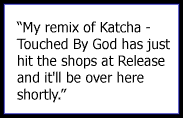 Progressive-Sounds: Many fans across the globe are eagerly awaiting your forthcoming artist album. Is there anything in the meantime scheduled which could keep them happy until such time?
Chris Salt: My remix of Katcha - Touched By God has just hit the shops at Release and it'll be over here shortly. That was a very different, almost twisted, techy take on the Hooj classic. There's also my radio shows on Proton and ETN.FM, you'll usually catch some of my re-edits on there and obviously I play tracks along the same lines as my own productions.
Regarding the album, I've been working on it for a while and it's getting there. It's fun coming up with new tracks and reinterpreting and twisting up some of my earlier works, but I can't wait for it to be finished. In the meantime you can hear a mix of one of my album tracks at the end of Future House.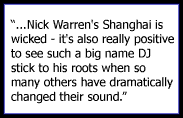 Progressive-Sounds: Being a busy man, I'm sure you would often even struggle to find time to breathe. But in amongst your sea of work you have cut out for you, I'm sure you have been able to chill out to some music of your own choosing. What albums - be they either electronic or non-electronic - have been doing it for you lately, and are there any particular all time favourites that you have?
Chris Salt: Idlewild rock - Warnings and Promises is definitely one of my all-time faves! I'm also a big fan of Trent Reznor, he's been an inspiration as a producer. Some of the twisted stuff he comes up with for his tracks and the Nine Inch Nails remixes has been absolutely class too. Of course The Prodigy have been a huge influence, particularly Jilted Generation - that's what got me into dance music in the first place.
In terms of recent mix compilations, James Zabiela's Utilities CD2 has had some serious rotation in my car - it's a pretty bold mix as by track 3 it's already really banging, but it just keeps ramping up! Evil Nine's Y4K is a devastating mix as well. I love the build on Fundacion, the summery uplifting vibe is class, and Nick Warren's Shanghai is wicked - it's also really positive to see such a big name DJ stick to his roots when so many others have dramatically changed their sound.
Progressive-Sounds:Coming up this year you have shows stretching from China, to Mexico, to South America, to Turkey. Do you have any particular places or venues which you truly love playing at just that little bit more than others, and if so what is it about these that have won you over?
Chris Salt: I guess two spring to mind really - Faces (Turkey) and Turnmills. Faces is great - it's literally underground and with a capacity of about 800 people it's got a really unique vibe, like a big warehouse rave or something! Turnmills is wicked too, I've played there a couple of times now and the anticipation before the gig is always immense - you always know it's going to be a big night. The atmosphere in the second room is great because you're so close to the clubbers, that definitely helps you work the crowd.
Progressive-Sounds: Currently, many would say that the progressive scene as a whole needs to take a new direction and redefine itself, as it is losing its unique edge. How do you feel about such comments, and what is your personal outlook of the scene overall?
Chris Salt: There's no doubt the scene's in the process of reinventing itself - everyone's going more eclectic with really fresh-sounding tracks and I think that's got to be a healthy thing to do. Personally I've gone more techy and housey, and I'm still playing a lot of breakbeat tracks - they're always good for tearing it up! At the end of the day it's all about playing music that rocks the dancefloor - as long as it works for the crowd and the DJ then that's all that matters.