Dubfunk - Eternal Rhapsody (Dubfunk Sunset Reprise)
Dubfunk - Eternal Rhapsody (George Delkos Dub)
Walsh & Coutre - Dissolve (Harada Remix)
Patch Park & Ozgur Can - Swell (Original Mix)
Dubfunk - Mandala (Guy J Remix)
Walsh & Coutre - Dissolve (Sol & Grimm Remix)
Dubfunk - Eternal Rhapsody (Erphun Remix)
Patch Park & Ozgur Can - Swell (Dirty Disorder Remix)
Walsh & Coutre - Dissolve (Original mix)
Patch Park & Ozgur Can - Swell (Dubfunk Remix)
This Is Audio Therapy Digital 2 Mixed by Dubfunk
Label:
Audio Therapy
| Release Date: 8/18/2008

After the success of the first This Is Audio Therapy Digital release mixed by the Presslaboys it was only going to be a matter of time before Audio Therapy decided to do it again and this time with the second instalment, Dubfunk mixes it.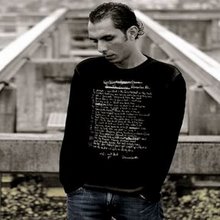 Dubfunk has certainly made quite an impression on us this year with 2 releases 'Mandala' and 'Eternal Rhapsody' along with a stunning remix so it was a no brainer to ask him to get him involved on this project. Having mixed 5 compilation releases for Global Underground, the quality and flow of the mix is guaranteed and he has certainly pulled out all the stops on this mix.
With a selection of tracks and mixes from some of the most exciting names in electronic music at the moment such as the likes of Guy J, George Delkos, Sol & Grimm, Harada, Erphun and Patch Park & Ozgur Can we are really rather proud of this release and hope it showcases the calibre and wealth of talent we have been lucky to work with.
Clocking in at just under 70 minutes the mix rocks from start to finish and if that isn't enough to entice you we have only gone and added an unmixed bundle to the package. Yes we know, we spoil you. So if you like the sound of an exceptional mix by Dubfunk plus 15 unmixed tracks in all their glory then roll up as This Is Audio Therapy Digital 2 will be out on August 18 through all good digital retailers.
Music Reviews -more-

browse