Quivver - Not Givin Up (Quivver 'Dirt Bag' Dub)
Quivver - Not Givin Up (D-Nox & Beckers Mix)
Shiloh Vs Luke Chable - Sentrino
Shiloh - Face (Furry Nipples '555' Mix)
D-Nox & Beckers - One Shot (Original Mix)
D-Nox & Beckers - One Shot (Kosmas Epsilon Mix)
Tronso & Stian Klo - Stuck With A Weirdo
Tronso & Stian Klo - Subway Delight
Descent - Lost Feeling
Descent - Caged
Critical Rhythm Presents: Singular
Label:
Critical Rhythm
| Release Date: 10/23/2006
As trends change and the way in which we purchase and own music does, so do the formats. Whilst dance music has traditionally been a 12" format, the advent of digital distribution has meant that in some ways, buying each mix of every track one wishes to own can prove costly. It's with this in mind that Critical Rhythm has decided to launch the 'Singular' series, a new monthly double cd package featuring tracks and remixes from its roster of record labels.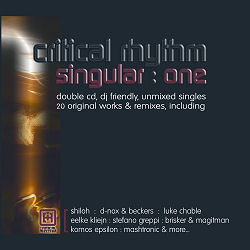 'Singular One' is already on sale with 'Singular Two' to follow at the end of November, with each subsequent volume to follow each month thereafter.
The 'Singular' concept provides great value for those completists who wish to own all the tracks from their favourite labels. In addition, the albums are 60% less expensive than buying the tracks individually in a digital format, and being on CD they are presented in full quality audio as a physical product which can be used without the requirement for a computer or MP3 player.

The albums are availble from www.criticalrhythm.com, in addition to other releases and digital exclusives, and much more, so be sure to check out the site often.
For those looking for information on the upcoming 'Singular Two', the tracklist for the next volume can be found right here in the Critical Rhythm discography here on [PS] Progressive-Sounds, and tracklists for further volumes will be added as and when they are announced.
Music Reviews -more-

browse