DJ Remy - Unplugged
Underground Movement - Wooferfood
Sonic Sorcery Feat Big Boy Caprice - All That I'm Wishing For
Lucien Foort - Summer 7AM
Dobre & Jamez - I Know I Let You Down
Bart Van Wissen - More Fun
Sander Kleinenberg - The Right Time
Stef Vrolijk - Oliebonk
16 Bit Lolitas - Omega 3
Roland Klinkenberg - Nick Of Time
Matthew Dekay & Mick Boskamp - Weekender
Various Artists - Audio Therapy Across Borders : Netherlands
Label:
Audio Therapy
| Release Date: 7/10/2006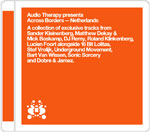 Following on from the recent 'Spring / Summer 2006 Edition Sampler', Audio Therapy are set to bring us the second installment in their Across Borders series. The first album, released back in 2005 placed the spotlight on artists from Greece, and the new album sees Dave Seaman and company travel to the Netherlands, where they showcase some of the best material from some of the country's top up and coming and established producers.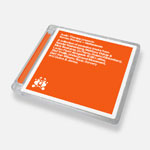 Audio Therapy take great pleasure in announcing that the second instalment from the Across Borders series will be based on the DJ's and producers from the Netherlands.
After 2005's critically acclaimed album, based on the sounds emanating out of Greece and featuring the talents of many artists such as G Pal, Tonedepth and Kosmas Epsilon, the follow up has been highly anticipated. With the likes of Sander Kleinenberg, Matthew Dekay, 16 Bit Lolitas and DJ Remy being just a few of the names involved the waithas been more than worth it.
The music originating from the Netherlands has been key in the development of electronic music throughout all genres from house to chillout and trance. The Dutch scene has always been very vibrant and has consequently inspired and cultivated a lot of homegrown talent from the likes of Fierce Ruling Diva back in the early 90's through to the current top DJs such as Tiesto and Armin Van Buuren.
The CD captures the talents of many different producers and covers genres from house to breakbeat and progressive through to tech house sounds. All of the tracks are previously unreleased and the majority have been made exclusively for this CD, making this project stand out and truly encapsulate the huge wealth of musical talent currently coming out of the Netherlands. There will be names within the tracklist that most people will be very familiar with and some others that may not yet be as well known.
Alongside the CD there will be 2 x 12" limited edition vinyl samplers as well as a whole host of digital extras added to the package. Check out the Therapy Music website for the mini-site and audio samples.
Music Reviews -more-

browse