Take Me Into Your Skin
Vamp
Evil Dub
Always Something Better
While The Cold Winter Waiting
Nightwalker
Like Two Strangers
The Very Last Resort
Snowflake
Chameleon
Into The Trees (Serenetti Part 3)
Moan
Miss You
Trentemoller - The Last Resort
Label:
Poker Flat Recordings
| Release Date: 10/2/2006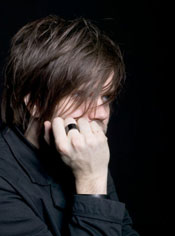 Anders Trentemøller has the taken the underground scene by storm over the last few months with such incredible tracks as 'Beta Boy', 'Polar Shift' and 'Sunstroke', not to mention his remixes of artists ranging from The Knife and Yoshimoto through to the Pet Shop Boys. He's become one of the leading producers in a considerably short space of time, and now is due to release his debut artist album 'The Last Resort' on Poker Flat. Due for release in October, and preceded by lead single 'Always Something Better', this is one to mark on the calender as it is definitely not to be missed.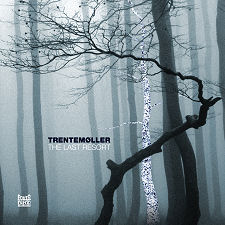 He is a unique talent in the current music world. Danish producer Anders Trentemøller took dance floors all around the world by storm last year with funky minimal techno-tracks like 'Physical Fraction' and 'Polar Shift', and subsequently was voted "Best Newcomer" by many of his peers and music fans alike.
Now Trentemøller returns with his debut album on Poker Flat, 'The Last Resort' – a beautifully crafted, astonishing masterpiece that will leave you breathless. The 13 instrumental tracks together form a wordless musical story, almost like the soundtrack of a movie. It manages to capture a whole range of emotions in subtle melodic miniatures, dreamy ambiences, dusty beats, deep dub-tracks and driving groove-excursions. An ever-changing kaleidoscope of colours and moods, 'The Last Resort' without a doubt contains Trentemøller's best work to date.
Although it's definitely an electronic album, it also incorporates live-drums, some guitars and other acoustic instruments like celesta, glockenspiel, melodica and even DJ scratching to create a more organic feel. Most tracks were recorded over the course of last year, often in the time between sessions for his 12" singles and remixes, which as Trentemøller himself says "Making these tracks was like having time-off. Moments to totally space out and let the music flow."
It may come as a surprise that on 'The Last Resort', Trentemøller moves away from the dancefloor and instead produces an introspective album that's especially great for home listening (or listening in the car, or on your i-Pod), but ever since his first release, it was clear the young producer from Copenhagen was able to fuse great melodies and chord progressions with subtle, yet driving beats.
His excellent remixes for Yoshimoto ('Du What U Do'), Röyksopp ('What Else Is There) and Pet Shop Boys ('Sodom') show yet another side of his multi-faceted talent, while his first releases on Audiomatique ('Physical Fraction') and Poker Flat ('Polar Shift') suddenly propelled him to dancefloor fame. But, as Trentemøller says now, he doesn't see himself as someone who just produces dance-tech.
*"I have always made all kinds of music. In the studio, I never think about which genre it is or what target group it is for, I just make the music I feel like. What came out of the recording sessions for 'The Last Resort' was a very personal album. It reflects my life, my thoughts, my needs, my insecurities, my longings, and it was a challenge, he to express these feelings and moods without words, only with music." - Anders Trentemøller*
It's for this reason why he decided not to put the two vocal tracks he recorded during the 'Last Resort' sessions on the final album. 'Always Something Better' (featuring Richard Davis and the first single to be taken from the album) and 'Moan' (with Copenhagen-singer Ane Trolle) are featured on a second bonus disc of the limited edition version of of the album. The second CD nicely complements the first one, not only because of the two vocal songs, but also because it contains all the great tracks Trentemøller produced last year for Audiomatique and Poker Flat.
*"When I listened to the final sequence of tracks, it felt as if I was listening to the soundtrack of a movie that unfolded before my eyes. For me it was important that the music would tell the story." - Anders Trentemøller*
Together these two discs show the two sides of Anders Trentemøller – the introspective melancholy man versus the outgoing, funky techno-minimalist. A fantastic accomplishment from one of the greatest producers of this new century.

Music Reviews -more-

browse