Cut Your Teeth
Smoke
Far Away
Thought Line
Dum Dum
Dirty Word
Salt In NYC
La Beeatch
Indestructible
Find Me
Neoteric Suite
Trafik - Club Trafikana
Label:
GU Music
| Release Date: 8/6/2007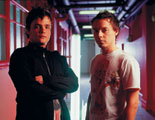 With the last few months having brought artist albums from Dark Globe, Sissy and The Remote, the next album on Global Underground is Trafik's eagerly anticipated follow up to their 'Bullet' debut. 'Club Trafikana' is a double cd album, with the first disc featuring 11 new and original tracks, whilst the second disc features remixes from Dark Globe, Dousk, Guy J and many more. *Check beck next week for an exclusive podcast preview of some of the tracks and remixes from the album.*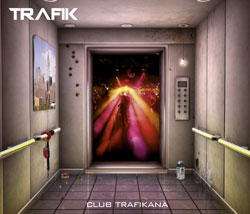 Trafik, Andrew Archer & John Elliott are signed to the world's foremost independent dance music label Global Underground and have just put the finishing touches to their second studio album, entitled "Club Trafikana".
Following on from producing and mixing some of the best selling dance compilation albums of 2006 and 2007, notably GU10 (10 Years of Global Underground Classics), GUMIXED (a brand new selection of exclusive and upfront music along with a rare classics CD) and Afterhours 3 (a top ten selling electronic album on iTunes for over three months), the Club Trafikana album comprises 11 new tracks of varying styles showcasing the duo's more uptempo live sound. With music ranging from the digital rock and roll of "Cut Your Teeth" to the flirty disco romp that is "Le Beeatch" to the peak time breaks and strings monster of "Neoteric Suite".
The album has been specifically created and produced to be taken on a worldwide club tour (hence the name "Club Trafikana….d@!#s are free!"). The unique live show utilises a mixture of decks, efx, synths mixing desks and controllers, and is followed by a rocking DJ set which work seamlessly together, and has lead to recent sell out gigs in Dubai, Singapore and Dublin.
Trafik's first album "Bullet" successfully achieved cult status with a blend of genres and styles that was likened to Orbital and Hybrid. Their music has gained respect from the likes of Paul Oakenfold, Sasha, The Plump DJs and Deep Dish. Added to that, the likes of Dave Seaman, UNKLE, Adam Freeland and Tilt all commissioned Trafik remixes in recent years. With music appearing on top-rated TV shows such as CSI Miami and CSI New York and on a selection of the latest Sony Playstation games, their sound undoubtedly reaches all four corners of the world.
Club Trafikana also includes a second CD of outstanding remixes produced by both established artists such as Dark Globe, Shiloh and Stel plus other up and coming producers such as Dousk and Guy J.
Finally, just when you thought that was enough to entice you, there's more…..the new album artwork concept was created by Maad Design and every one of the track names has been cleverly and sometimes obscurely featured somewhere as part of the imagery used. See if you can spot all of them….a real late night challenge!
[|For a preview: www.maad.co.uk/article.html|http://www.maad.co.uk/article.html]
Music Reviews -more-

browse