Sebastian Tellier - Black Douleur
James Figurine - Apologies (DJ Koze Mix)
Pawel - Ceramics
Tuff Little Unit - Join Your Future
Osvaldo - Stella Called
Courtney Tidwell - Don't Let Stars Keep Us Tangled (Ewan Pearson Mix)
Marianne Faithfull - Broken English
Mia - Tanz Der Molekule (My My Original Mix)
Frankie - Bullshit (Ziggy Kinder Mix)
Groove Box - Casios Theme (MAW Flave Mix)
Ralphi Rosario - Una Cosa De Amour
Broke - Over That
Donnach Costello - 6.6
Brooks - Tell Somebody About The Beat
Recloose - Can I Take It (Carl Craig Mix)
Ron Trent - Altered States (Light City By Terrace)
Francesco Catalano - String Of Life
Flash And The Pan - Walking In The Rain
Tiefschwarz Present - Black Musik : 10 Years Of Tiefschwarz
Label:
Souvenir Music
| Release Date: 5/7/2007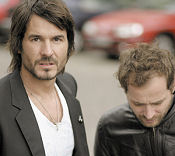 It's been 10 years since Tiefschwarz released their debut single '24 Seven', and since then have released two artist albums, 2001's 'RAL9005' and 'Eat Books' in 2005. In addition, their remixography reads like a veritable who's who of the music scene, with the Tiefschwarz magic having been placed upon tracks from a diverse range of talent that includes Masters At Work, Booka Shade, and even Earth, Wind & Fire! To celebrate 'Black Musik' is a double disc release on their own Souvenir Music imprint, the first cd giving an insight into their music influences, whilst the second is a collection of some of the best Tiefschwarz tracks of the last 10 years, remixed by some of today's top artists.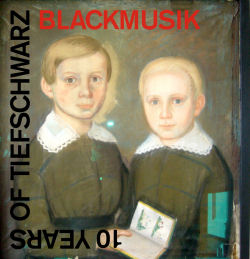 To celebrate 10 years of success as music producers and DJs, the Schwarz brothers are releasing a double CD compilation album on their own label, Souvenir Music.
The first CD will feature a mix of Ali and Basti's musical influences, spanning their entire DJ career (anti pop consortium to Frankie Knuckles, Ewan Pearson to Marianne Faithfull). Whilst the second CD is an exclusive selection of the finest Tiefschwarz tracks, remixed by their favorite producers and friends (Radio Slave, Matias Aguayo, Shonky, Samim, Turntable Rocker, and Kiki to name but a few).
This release will be supported by the new Tiefschwarz single release in June on Souvenir Music, a special vinyl-edition remix package (including additions from Carl Craig and another Radio Slave mix) and a two-part world tour starting at the end of March.
Part one, beginning in March at D-Edge in Brasil, has high-lights including Womb in Tokyo, Bed in Miami (as part of the Winter Music Conference 2007), Weekend in Berlin, Cocoon in Frankfurt, Fabric in London, Loft in Barcelona, Space in Ibiza - as well as festivals including the Garden Festival in Ireland, Creamfields in Portugal and ending at the Renaissance festival in the UK. Part 2, will begin after the summer and carry until the end of 2007. A year long celebration.
Music Reviews -more-

browse