Looks Like A Star
I Don't Know
The Last Ghost In Town
02.20 Girl
Hey Fever
My Black Dog
Occupy Your Space
Freeky Boy From Outside
Fresh Meat
Suicide Girl
Suicide Sports Club - Electric Mistress
Label:
B_Rock
| Release Date: 10/24/2005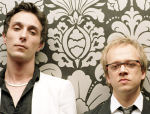 Suicide Sports Club is about living on the edge, pushing things to the limit and throwing caution to the wind, and thats exactly what Luke Brancaccio and Bruce Aisher hope to achieve with the forthcoming release of their debut artist album 'Electric Mistress'. Featuring the recent single 'Last Ghost In Town', in addition to guest appearances from Saffron and Sarah Jay amongst others, the album is the first to appear on John Digweed's new B_Rock label and all the details about the album and label are right here.
Suicide Sports Club is about living on the edge, pushing things to the limit and throwing caution to the wind, and it's founders Luke Brancaccio and Bruce Aisher have been knowing for doing this all too well. Always going that extra mile, trying something different.

With collective influences that touch upon everything from music and culture, from Mozart to the classical minimalism of Steve Reich or Phillip Glass, the infamous Jim Morrison to Burt Bacharach and everything from fine art to the bright lights of LA. these two two invidiuals have had a storied career, from their early days as the Wicked Dolls, moving through the mid 90s and past the turn of the century with the dancefloor sounds of Brancaccio & Aisher, every step has seen them walk the edge, finding their way that step closer to their debut long player.

Decadent like Fellini's Satirycon and La Dolce Vita, 'Electric Mistress' has a twilight feel. Moving from the unnerving 'My Black Dog' to the airy 'Looks Like A Star', the album captures a valium haze where subconscious memories flood in but somehow can't be placed. Multi-layered sounds occupy their own space and form a coherent whole, from voodoo drums (Occupy Your Space) to organ drones and whispered vocals (Hey! Fever). This atmosphere pervades and washes over elements of Air, Pink Floyd, Spiritualised and Neu. Like the deep hypnotic elements of progressive house, boiled down to a black tar and lit, vapours slowly fill the room until everyone inside is spellbound.

Along with the club's newest members Duke and Suspect, Saffron (formerly of Republica), Lanni and Sarah Jay, the past months' hard work have produced a spontaneous yet thoughtful and honest album of music. There is no overriding concept. The songs are about real life and real people they know. Those depicted are (for now) unaware of their muse like inspiration. The album gives you a unique insight into a scene and social circle, lives and loves, highs and lows, whilst walking that line once more..

"Suicide Sports Club continues what we've always tried to achieve in releasing the best new and forward thinking music. I set up the B_Rock imprint to distinguish this from everything else as I wanted Suicide Sports Club to be judged on it's own and about the music. Hopefully B_Rock will be an avenue for some for some stuff that's a bit more 'rock' than electronic but ultimatley it follows the same principles of exciting artists and great music. Suicide Sports Club are an awesome and diverse band and hopefully B_Rock should bring them to an equally diverse crowd!" - John Digweed
Music Reviews -more-

browse