Belong (Open Version)
New Light
No Return
What Are We Waiting For
Shelter
It's So Late
Strange Addiction
The River
An Ending
Spooky - Open
Label:
Spooky
| Release Date: 6/25/2007
Hot on the heels of the re-release of their timeless 'Gargantuan' album, Charlie May and Duncan Forbes are set to return with their third studio album ('Found Sound' being the second), entitled 'Open'. The album will be double disc album of electronic and downtempo music, featuring the singles 'Belong', 'No Return', 'Strange Addiction' and 'New Light', all featured in exclusive interpretations for the album along with several other new tracks, and due for release in June.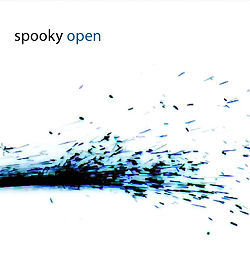 Electronic music pioneers Spooky (aka Charlie May and Duncan Forbes) return with their third studio album, the double-disc masterpiece 'Open'. Featuring the lush vocals of Julie Daske and the amazing Celestine Gordon – 'Open' is a perfectly produced one-two punch of electronic soul and chill-out music.
On a historical level, Spooky are one of the most famous and important production outfits of the mid-1990's electronic music scene. Much like other top acts from the golden era - including Orbital and Underworld - Spooky always created music that went beyond a 4/4 simple beat and landed in a realm of beautiful song structures and soundscapes.
'Open' isn't merely another electronic or dance music album, but rather it's a masterwork that needs to be thoroughly explored. The first disc of this collection features 9 songs that that traverses the realm of electronic soul. Each track is elegant and smooth as ice; paired with the irresistible vocals of newcomers Julie Daske and Celestine Gordon.
If you need a comedown from everyday life, then we suggest you pop in the second disc. This set offers alternate "chill out" versions of the tracks from disc one. Glorious synths and downbeat atmospheres are paired with the vocals to create something truly remarkable.
Known for their ability to weave in and out of genres, Spooky are most famous for their anthem 'Little Bullet' (1993) and their top-selling debut LP 'Gargantuan' (1993). They've also remixed some of the most memorable electronic music tracks of all time including Sven Vath's 'An Accident In Paradise' and William Orbit's 'Water From A Vine Leaf'.
Spooky have also gained a reputation for having a can't-miss live show and have been touring with Sasha throughout the world. There are plans for Sasha and Spooky to tour together around the release of Involver 2, which they are currently assisting in the creation of.
'Open' will be released in June, and will be pre-empted by the release of the much sought after single 'New Light'.
Music Reviews -more-

browse