Spirit Catcher – Polysquasher
Dan Berkson – People
Only Freak - Viper Vapour
Stereo Type – Somewhere
Jim Rivers – Future
Audiofly X - Stolen Goods
Martin Eyerer - Wicked Line
Electrochemie - Big One
Uppfade - Panga (Gui Boratto's 'Ace of Spades' Mix)
Cass & Mangan - I Love Your Shoes
Guy Gerber - X Factor
Jim Rivers - Restore
Satoshi Tomiie - Renaissance Presents: 3D
Label:
Renaissance Recordings
| Release Date: 1/30/2006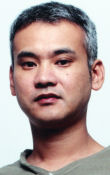 Renaissance have been known for producing quality albums for well over the past decade, with each series they have introduced being held in high regard. From the early days and the inaugural 'Mix Collection' series through to the introduction of the 'Masters' series at the turn of the millennium, the label has continously proven it's legacy. With the recent launch of the Frontiers series comes the annoucement of another new series to launch in early 2006.


'3D' is a triple cd compilation that focuses on three different sides of the featured DJ. CD1 is the 'Club Disc, whilst CD2 is the 'Studio Disc', a collection of tracks, remixes and exclusive edits, with CD3 being the 'Home Disc', a selection of home listening choices from the DJ away from the decks. Satoshi Tomiie is the first DJ to take the helm of the series, and all the information on this forthcoming opus is right here.
Renaissance is delighted to announce a very fresh start for 2006 – '3D', a compilation that welcomes a new concept and DJ to the label's ever-growing series of albums.

First to take up the challenge is US-based Japanese wünderkind Satoshi Tomiie. An integral member of Manhattan's prestigious Def Mix collective, Satoshi is famed for his blistering productions and remixes, and his pioneering SAW label. Clubbers across the world know him for the incredible DJ sets that see him criss cross the globe on a regular basis, making him one of dance music's most respected ambassadors and an immediate candidate to launch the '3D' project.

As the name suggests, '3D' is a triple album, with each disc drawing on the key musical aspects of Satoshi's career. First up is Club, a bang-up-to-date recording of his live sets; then there's Studio, a CD that really proves Satoshi's commitment to the project with its seven exclusive remixes and re-edits of the likes of Photek, Kosheen & Hybrid; and finally the Home CD switches gear and delves into Satoshi's personal collection of favourite cuts.

"It takes a unique artist to qualify for 3D. They need a major body of studio work, a high-profile performing schedule and the depth of musical knowledge to put together an interesting mix of home favourites. Given this criteria, Satoshi was an obvious choice." - Geoff Oakes, Renaissance MD
Music Reviews -more-

browse