Star You Star Me - Sweet Things (Original Mix)
Metro Area - Proton Candy
Satoshi Tomiie - Glow
Jeff Bennett - Designated
M1 - Man:Machine (PJ Mix)
Dan Berkson - Concept
John Tejada - Chorgs
Chab - Closer To Me (ES-B Mix)
The Vulva String Quartett - Death Cab For Bootsy
Kerri Chandler - Bar A Thym
Elmar Schubert - Make Me High
Spirit Catcher - Code Breaker
Satoshi Tomiie - ES-B
Label:
SAW Recordings
| Release Date: 8/1/2005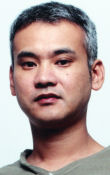 Hot on the heels of the recently released 'ES' compilation, Satoshi Tomiie has already put his hand to the follow-up, 'ES-B'. Whereas 'ES' focused on the dark club sounds that Satoshi has championed for the last few years, 'ES-B' is a showcase of the deeper, more soulful and funky sounds that in some cases pass a nod way back to the early roots of Satoshi's career.


With the past few years having seen him launch the highly successful label SAW Recordings, create a stunning artist album in the form of 'Full Lick', in addition to mixing a Global Underground Nu Breed compilation and a label retrospective 'Undulation 1', 'ES-B' could be one of the essential soundtracks for the summer of 2005 that fans of his Cafe Mambo sets and music lovers in general will enjoy.
Summer brings to mind lazy afternoons in the sand, tropical drinks by the patio, and scorching hot nights spent dancing until the break of dawn. Just in time for the steamiest months of the year, Satoshi Tomiie is set to release the follow-up to his recent ES mix CD, ES-B. While the first album featured a largely progressive club mix, ES-B caters to fans looking for more of a funky, deep-house collection of tracks inspired by the sultry glow of summer.

Drawing inspiration from his summertime DJ sets at Ibiza's Café Mambo, Satoshi has created a fine selection of gyrating, chilled-out beats. He eases in with a textured combination of electro-groove and synth on tracks such as Metro Area's 'Proton Candy', while a new Satoshi original production, 'Glow', is the standout deep-house track on the album.

Others, such as 'Concept' by Dan Berkson and 'Code Breaker' by Spirit Catcher suggest a very funky, 80's-inspired sound, whilst Chab, another name from the SAW Recordings label, graces the album with the rhythmic bassline and soothing vocals of an exclusive mix of his hit 'Closer To Me'.

Lately, Satoshi has been on a non-stop touring schedule that has brought him to clubs located all over the world. A Japanese New Yorker himself, Satoshi makes it a point to return to the familiar turntables of his home city every few months. He often finds himself creating new music alongside hotel swimming pools and during long treks between shows, finding motivation in the sights and sounds of the places he visits.

Bearing a more chilled-out version of his "Electronic Soul", Satoshi's ES-B provides the perfect soundtrack for a pre-party warm-up or a late night cool down. 'ES-B' should be an essential part of your collection if you're looking to stay cool on those hot summer nights.
Music Reviews -more-

browse