Omid 16b - Seagull
AN-2 - Wide Open
Modern Heads feat Pig & Dan - Gliding (Hypnotherapy)
Omid 16b - The Final Choice
Christian Smith & John Selway - Slow River
LFO - Nurture (Surgeon Remix)
Speedy J - De-Orbit
Jody Wisternoff - Starstrings (Instrumental)
Aeroplane - Caramellas
Chymera - Umbrella (Beatless Mix)
Imagination - Just An Illusion (Lindstrøm Dub) (SOS Edit)
DJ Frtizo - Pimms By The Pool (SOS Remix)
Bryan Ferry - Don't Stop The Dance (12" Remix) (SOS Edit)
Jan Driver - Kardamoon
MC Sultan - Der Bauch
Brandy - The Ritual (Chateau Flight Remix)
Cocteau Twins - Cherry Coloured Funk (Seefeel Remix)
The Cure - Lullaby
SOS - SOS - Balance 13
Label:
EQ Recordings
| Release Date: 4/28/2008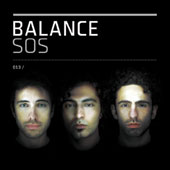 For the last month Desyn Masiello, Demi and Omid 16B have been locked in the studio working feverishly on thier highly anticipated Balance 13 Compilation for EQ Recordings. They have gathered a full spectrum of superb music by pop artists such as Bryan Ferry, The Cure, and Cocteau Twins, to the more underground house sounds of Spirit Catcher and Inner City, without forgetting electronic legends LFO and AFX.
The boys have cleverly edited, remixed, and manipulated almost each and every song to fit into place with thier unique and interesting style over the course of three cds.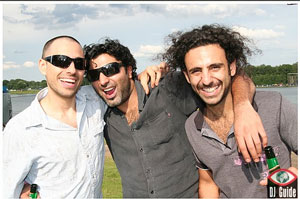 Having continued to take the world by storm with another trio of unrivalled album releases in 2007, EQ's awesome Balance series continues its rocking subterranean journey in 2008 with the next exciting installment – Balance 013 …

That's right, folks, Balance has entered its terrible teens: so brace yourselves for some serious attitude, erratic behaviour and non-stop partying as the world's hottest compilation series starts tearing things up, flicking the bird to strangers and staying out late without calling …

With legends of the underground, Jimmy Van M (US) and Lee Burridge (UK), doing the business for Balance 010, 010.1 and 011 respectively, Balance 013 sees new kids on the block, SOS, get their chance to rock it like it's never been rocked before … and as you'd expect, they have needed little encouragement. So lie down on the floor, take some deep breaths and try to keep calm, because with the planet's hottest DJ alliance in the house, Balance is going to get downright deep and dirty …

Starring the freakish talents of London's Demi, Desyn Masiello and Omid 16B, SOS have been turning heads and blowing people's minds sky high since laughing and partying their way onto the dance radar back in 2004.

Demi is a globetrotting DJ who also happens to be the brains behind the uber-cool Deeper Substance parties and label. Desyn is a globally revered DJ/Producer who is not only 'the man' in underground circles (and previous Balance hero!), but also the mastermind and co-owner of labels like Alternative Route, Symphonic and SexOnWax. And then there's Omid, who's a sought-after musician responsible for no less than three critically acclaimed artist albums (as '16B'), on top of being the 'Big Cheese' of the iconic Alola, Disclosure and SexOnWax labels.

Each renowned for their solo achievements in the weird and wonderful world of Electronica, when this trio of talent joins forces the results are simply electrifying. From rocking their own too cool for school Ibiza events (did someone say El Ayoun and Penelope ?) and sell-out 'SOS on the Thames' boat parties, to landing a rare as hen's teeth Pioneer Pro DJ sponsorship deal and broadcasting a three-hour Essential Mix on BBC Radio 1; the SOS lads are already well on their merry way to achieving global dancefloor domination …

So get on board, hang on tight and don't miss their finest hour (or two, or three…): Balance 013: SOS is about to set sail …

Featuring a spot-on selection of sounds from yesterday, today and tomorrow's electronic maestros (including an eclectic mixture of the likes of Sasha, Aeroplane, Aphex Twin, Bryan Ferry and Omid 16B and more…), Balance 013 is a smooth, mesmerising ride that's first class all the way …

A masterful soundscape that's crafted to captivate, intoxicate and dominate the senses, this highly anticipated addition to the prestigious Balance catalogue not only showcases the very best of Planet Earth's underground, but also confirms why the SOS alliance is a collective of pure genius to be reckoned with anywhere, anyplace, anytime …

The mayhem of Balance 013: SOS cuts loose over three epic discs and is due for worldwide release through Australia's EQ Recordings in April 2008. You'd be a fool to miss out on this…
Music Reviews -more-

browse