Talking Heads – Born Under Punches (The Beat Goes On)
Harry Thumann - Sphinx
Kasso – One More Round
Pino D'Angino – Ma Quale Idea
Edgar Winter – Over & Over
Ray Mang & Nathan D'Troit – Off Side
Mr Flagio – Take A Chance
Mike Oldfield – Charleston
Emmanuel Splice - Meatball
Jesse – That's Hot (Joey Negro Re-Edit)
Art Of Noise - Legs
I Level - 3A.M. Give Me
Klein & MBO - Dirty Talk (European Connection)
Supermax - It Ain't Easy
Idris Muhammad – Could Heaven Ever Be Like This
Guy Dalton – Night People (New York Club Mix)
Valerie Dore – Get Closer
Ginny – Can't Be Serious
Funkadelic – I'm Never Gonna Tell It
The New Birth – It's Been A Long Time
Royksopp - Back To Mine
Label:
DMC Music
| Release Date: 4/2/2007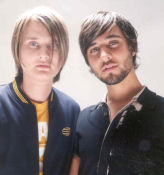 The Back To Mine series over the course of the last few years has seen the likes of Nick Warren, Dave Seaman, Groove Armada, The Orb, Underworld, New Order and Orbital showcase their home listening and influential favourites to us, and after 2006 saw The Prodigy's Liam Howlett and Mercury Rev join the series, the first volume of 2007 comes from Norwegian outfit Royksopp. Reknowned for such singles as 'Eple', 'What Else Is There' and 'Beautiful Day Without You', and having released a live album entitled 'Royksopp's Night Out' last year, their Back To Mine album traverses a wide range of music, starting with Talking Heads, taking in cuts from Mike Oldfield and Art Of Noise along the way, and ending with Funkadelic, and is due for release in early April 2007.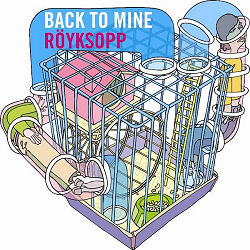 Mixing rare gems with classic cuts, DMC open their 2007 account with an effusive instalment of their unparalleled Back to Mine compilation series. Revealing highlights from Norway's finest record collection, maestros of masterpieces, Röyksopp, take pole position in a year that will see the Back To Mine franchise reaching new heights.
Reflecting the widescreen, cinematic sensibilities of their million selling debut album, 'Melody AM' and the dancefloor drenched grooves of follow up 'The Understanding', Röyksopp have drawn on the obscure and sublime, hand-selecting tracks as rich in quality as they are in history, for Back To Mine's 25th outing.
Kickin off with Talking Heads - Born Under Punches (The Beat Goes On), Brian Eno's final (and perhaps finest) production for the band, Röyksopp start slipping in the stunners early, dropping the electro welding strength of Harry Thumann's 'Sphinx', with Knight Rider-esque, classic early 80s charm. The championed funk of Pino Diango, classic bass manoeuvres of Edgar Winter and shimmering electro disco of Ray Mang charge up proceedings, before dropping the tempo with Mike Oldfield's 'Charleston' which segues into an exclusive track from Röyksopp under their pseudonym Emmanuel Splice.
The Low slung bass of Jesse G's 'That's Hot' and Art Of Noise's Breakers anthem 'Legs' up the pace as Röyksopp cruise through a masterful lesson in Italo Disco, Hip-House and P-Funk. Ginny's deep slow jam 'Can't Be Serious' settles the groove back before Funkadelic's 'I'm Never Gonna Tell It' and the burning R'n'B of The New Birth's 'It's Been A Long Time' bring affairs to a soulful close.
Music Reviews -more-

browse