Jesus & Mary Chain - Just Like Honey
Ultra Vivid Scene - Mercy Seat
Dinosaur Jr. - Freak Scene
Pale Saints - Sight Of You
Ride - Nowhere
Spiritualized - If I Were With Her Now
Chapterhouse - Pearl
Slowdive - When The Sun Hits (Album Version) (Clean Version)
Lush - Sweetness & Light
Boards Of Canada - Zoetrope
Ulrich Schnauss - On My Own
M83 - Teen Angst
Cocteau Twins - Cherry Coloured Funk (Seefeel Mix)
Maps - You Don¹t Know Her Name
Dean & Britta - White Horses
Rob Da Bank - Sci Fi Lo Fi Volume Three : Shoegazing 1985 - 2009
Label:
Soma Records
| Release Date: 3/16/2009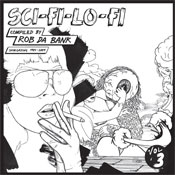 Soma's 'Sci Fi Lo Fi' series kicked off last year with Andrew Weatherall's twisted psychedelic mix receiving widespread accolade, with Damien Lazarus providing a more leftfield mix for the series second outing. Now this spin off of the 'Sci Fi Hi Fi' series contines with as Rob Da Bank compiles some of the best tracks he's come across during his illustrious career and that inspired him during his younger years, as Volume Three in the series is an educational and chronological history of shoegazing 1985-2009, with the release set for March.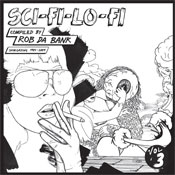 The 'Sci-Fi Lo-Fi' series, a spin-off of Somas much-admired 'Sci-Fi Hi-Fi' mix compilation series, commenced over a year ago with Andrew Weatherall providing a twisted mix of psychedelic rockabilly, garage rock, post-punk and dance rock to an incredible reception. For a label firmly associated with house, techno and electronica, the release proved to be a commendable gamble and in 2008 Soma released the second in the series from Damian Lazarus, who provided a dark mix of twisted pop and leftfield electronica. With the continued success of the series Soma now prepares to release the third installment from Rob da Bank.
In his beautifully illustrious musical career Robs is a great success story that has overturned every stone imaginable. Sunday Best was, in its 1995 inception, a small weekly leftfield club night with an `anything goes music policy which rob created. As a natural progression from this rob developed the Sunday Best Recordings label in 1997 as a means to release some of the music that was filling his club on a weekly basis. Such is Robs keen ear and passion for promoting new music, the label would soon be responsible for acts such as Groove Armada and Lemon Jelly and today plays host to a diverse family of musicians including Dans Le Sac vs Scroobius Pip and Kitty, Daisy & Lewis. Rob, along with his wife Josie, then progressed further with their grand ideas to establish Bestival in 2004, maintaining the same blueprint as the successful Sunday Best club nights. Now three-time winners of the Best Medium Sized Festival award and consistently reaching capacity, Bestival is currently one of the most exciting music festivals in the UK spawning new spin-off festivals such as Camp Bestival.
Rob is probably best known throughout the world for his radio shows on BBC Radio 1. Commencing at the station in 2002, he co-presented the weekly Blue Room show with Chris Coco on a Saturday morning and, in 2004, was assigned the mammoth task of filling the shoes of the late, great John Peel, which he did so for 18 months. Rob now presents two shows over four hours on the station in the liminal world between Sunday night and Monday morning where he showcases his vast collection of anything from Peruvian dub and Swedish techno to Hungarian goulash music and everything in between. Aside from his work with Radio 1 Rob has also just re-scored the music to the film King Kong for BBC Radio 4. This huge commitment to and passion for all forms of music along with his vast experience makes him the perfect candidate for the next Sci-Fi Lo-Fi album, where he delights with an educational, historical and chronological compilation of Shoegaze.
My teenage years were spent wholeheartedly gazing at my shoes feeling sorry for my pubescent self and immersing my ears in the murky, ethereal, beautifully soupy sound of the bands assembled here. Listening back to these bands and tracks makes me feel recklessly alive in troubled times! Its an honour to be part of this series following the huge critical acclaim awarded to Andrew Weatherall. And for me, this was the obvious musical period that inspired me the most in my formative years. - Rob Da Bank
With sleeve notes penned by Editorial Director of NME and Uncut, Steve Sutherland, a 4200-word account of the history of Shoegaze, 'Sci-Fi Lo-Fi: Volume 3' proves to be as informative as it is an enjoyable listening experience. It must be said that Shoegazing owes a huge debt to East Kilbrides The Jesus And Mary Chain so it is only fitting that the compilation opens with the instantly recognisable Just Like Honey. They rescued British music in the mid-80s from a deluge of pop carbon copies with a refreshing, innovative new sound of haunting feedback and ethereal vocals. And from this a new scene was soon born. Acts such as Ride, Lush, Chapterhouse and Slowdive all followed in the successive years with a mutual support for one and other and all with the same timid, shy on-stage (non-)presence, and hedonistic party attitude off-stage. Shoegaze continued wowing crowds until brit-pops insurgence stabbed it in the side and left it for dead in the mid-90s. And so it was until about 2004 when acts like Ulrich Schnauss, M83 and Boards of Canada Merged shoegaze with electronica to bring it right back, albeit with an evolved sound and new technology. Rob Da Bank showcases the scene perfectly with this brilliant compilation and Sutherlands sleeve notes add beautifully to this incredible celebration.
Music Reviews -more-

browse