Times
Surin
Chasing A Feeling
What's Not Going On
Tick Tick
Two Notes & A Beat
Darkrooms Dub
Cloudless
Ghosts
These Sunset Days
Quivver - Dirty Nails & Vapour Trails
Label:
Boz Boz Recordings
| Release Date: 7/7/2008
For the past 15 years, John Graham has been at the forefront of the dance music genre. Perhaps you'll know him better through his numerous alter ego's including Quivver, Space Manoeuvres, Stoneproof, Skanna, and Tilt, as each of these projects produced numerous hit singles and had a heavy hand in shaping the global dance music scene. Now, fresh off a recent move from his native UK to Los Angeles, Graham resurfaces on July 29 with his monstrous debut Quivver album, Dirty Nails And Vapour Trails.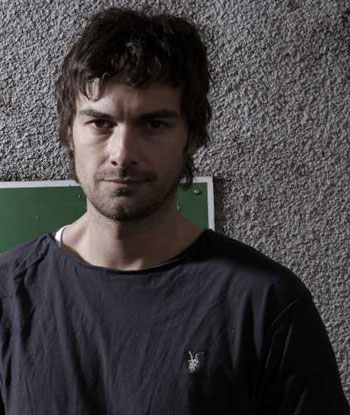 While it's true that Graham – in his many forms – has long been associated with the progressive house genre, Dirty Nails And Vapour Trails travels down many different paths. Whereas recent Beatport and Juno chart topping single "Surin" offers a classic 4/4 progressive vibe, the remarkable drum n bass sizzle of "Chasin A Feelin" is making jaws drop worldwide. Yes, you read that right – this is a gorgeous pure drum n' bass track, a hark back to his original Skanna sound.. "Chasin A Feelin" is so hot right now that Sasha was playing this one out all around WMC and finished most of his "delta heavy" tour shows with the track (in addition to other Quivver tracks "Tick Tick" and "2 Notes N' A Beat.") Pete Tong also dropped it for the first time on April 11 edition of "The Essential Selection" on BBC Radio One.

"I've always listened to and have been influenced by a lot of different stuff and I think it's sad that the scene is so divided these days. It's like there's a new genre every other week and people jump on that bandwagon until the next one comes along and forget where they came from. I also wanted the album to be something people could really listen to and that would still be relevant in a few years so I didn't want to do a bunch of 4 to the floor bangin' club tracks - that's what mix comps are for," Graham says

A multidimensional artist, Graham is known not only for his cache of hot productions, but also for his dynamic singing voice. Graham starred as a feature voice on Hybrid's fantastic 2006 artist CD I Choose Noise and lays down each vocal on Dirty Nails And Vapour Trails. It's simply one of those voices that finds a way to work like magic whether applied to progressive house, drum n' bass and even spaced out breaks. In 2003, Graham founded his own label Boz Boz recordings which is still going strong today and provides a comfy independent home for Dirty Nails And Vapour Trails. In addition to releasing hits as a producer (Tilt's top 20 hit "Invisible" comes to mind), Graham is also an accomplished DJ who in 2001 became a resident DJ at Twilo, showcased his skills on an entry in the Tranceport mix CD series, and is currently ranked 43 in the world by the dj list out of 200,000 DJ's worldwide.
Music Reviews -more-

browse