Faster Kill Pussycat
No Compromise
Sex 'N' Money
Switch On
Amsterdam
Set It Off
The Way I Feel
Praise The Lord
Save The Last Trance For Me
Not Over
Vulnerable
Feed Your Mind
Paul Oakenfold to release his new album 'A Lovely Mind'
Label:
Maverick Records
| Release Date: 4/11/2006
Paul Oakenfold is set to return with the follow up to his 2002 album 'Bunkka'. Having spent the last few years producing original compositions for the advertising campaigns of Motorola, Toyota and Saab amongst, he's found time to put together his new album 'A Lively Mind'. Much like 'Bunkka' the album features a wide range of varied vocalists, with surprise inclusions such as Brittany Murphy being featured alongside such established names as Grandmaster Flash and Pharrell Williams. In addition to this he will be remixing the upcoming Madonna single 'Sorry' and has a number of film score projects in the works, ensuring the album kicks off what promises to be his biggest year yet.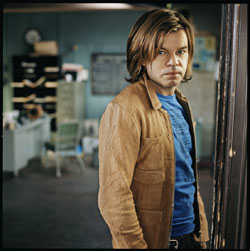 Paul Oakenfold has long been one of the most important and iconic names in modern club culture. Remixes for Madonna and U2; the scoring of the movie Swordfish; plus original compositions for advertisements for Motorola, Saab, Toyota and Diet Coke are just a small portion of his work that have kept him on the forefront of the musical map. On April 11, Oakenfold will release 'A Lively Mind', a brand new full-length album for Maverick Records that introduces the next element of his career.
'A Lively Mind'--a title which means "an active person," says its creator--features 12 new songs composed and created by Oakenfold. A work of love and passion, it's been three years in the making. Bunkka, his debut artist album including the hits "Ready, Steady, Go" and "Starry Eyed Surprise," was released in 2002 on Maverick and sold over a million copies worldwide. It showcased such guest vocalists as Perry Farrell, Ice Cube, Tricky, Nelly Furtado, and--in what would turn out to be his final recorded appearance--Dr. Hunter S. Thompson. 'A Lively Mind' continues the tradition of employing unique vocalists.
This time around, Brittany Murphy, known for her roles in such films as 8 Mile and Sin City, makes her vocal recording debut on the album's upcoming first single, "Faster Kill Pussycat." The actress-turned-diva was recommended to Oakenfold by a mutual friend. "I was looking for a different genre and a different feel and something just original for me," explains Oakenfold. "I knew I wanted a girl vocalist but also someone who's not known as a singer. It had to be someone from a completely different world than mine. It ultimately seemed that film was the right place to look because I was venturing more and more into that world. But even more importantly, I needed someone who could sing--who could really, really sing--and Brittany Murphy fit the bill."
The world of film--or at least of Hollywood--influenced another of the album's standout tracks, this one featuring vocals by modern hip-hop great Pharrell Williams. Inspired by the four years the London-raised Oakenfold has called L.A. "home," the track is titled "Sex 'N Money." "It's a song about how soulless the Hollywood party scene can be. I've been in situations where people are introduced to me and then they spot a celebrity, standing nearby, and they disappear, literally mid sentence. So the track is really Hollywood in a nutshell for me--it's all sex and money. We deconstructed our original track and rewrote it for Pharrell, in a way that's melodic and hypnotic and just keeps coming back at you in waves."
Other vocalists appearing on 'A Lively Mind' include two artists signed to Oakenfold's long-running Perfecto label--Spitfire (who performs on "No Compromise" and "Feed Your Mind") and Ashley of the rock band Bad Apples (who adds his talents to "Vulnerable"). And then there's one who can only be described as a true living legend. Grandmaster Flash, the man who gave birth to the whole hip-hop movement in the early '80s with his classic "The Message," joins Paul Oakenfold on "Set It Off."
'A Lively Mind' is just the beginning of an amazing 2006 that will find Oakenfold working on the scores of at least three new films--as well as remixing a number of singles including "Sorry" from Madonna's new record Confessions of a Dance Floor and a track from the legendary Burning Spear. At the same time, Oakenfold's Perfecto label is releasing debut albums by the aforementioned Spitfire (whom Oakenfold compares to a young Anthony Kiedis) and the London-by-way-of-Los Angeles Bad Apples. Details on the U.S. support tour for 'A Lively Mind' will follow at a later date.
Music Reviews -more-

browse