Nubreed - The Futuristic Sounds Of Now (Intro)
Lusine - Flat (Lusine Mix)
Habersham - M.E.H.S.
Tipper - Rare And Plentiful
Ils - Over My Head
Dirty Fours - Machines
Stanton Warriors Feat Eska - Still Here
Poxy Music - Our Break
Toksin - Digital Divine
Andy Page & Danny Bonnici - Vermouth
Nubreed - Festa
Son Of The Electric Ghost - End Of Six
Nubreed - The Thing
Nubreed - Shortkey (Acapella)
Si Begg - Turn Up The Volume (FTP VIP Mix)
Kilowatts - Learn To Love Loneliness
Nubreed - Y4K
Label:
Distinctive Records
| Release Date: 2/6/2006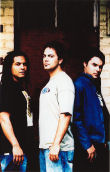 Jase Catherine, Michael Walburgh and Danny 'DB' Bonnici are without doubt one of the major forces that have pushed the music of Australian breaks scene onto the worldwide stage. Their 2004 album 'The Original' was released to critical acclaim and now build upon the foundations laid by that album by becoming the latest artists to compile a mix for Distinctive's excellent 'Y4K' series.
Following in the footsteps of such names as Ali B, Hybrid, Evil Nine and fellow Australian Phil K, Nubreed's contribution to the series will be released in February, featuring material from Lusine, Son Of The Electric Ghost, Andy Page, Toksin and many many more, drawing from downtempo and reggae influences and also featuring some new material from the boys themselves. Further details, including tracklist are right here for you.
With the Y4K series amongst the strongest DJ compilations out there, Australian outfit Nubreed follow in the footsteps of Phil K and have mixed and compiled the latest volume in the series for release in February 2006.

Nubreed join the elite who have already plied their mixology and put their selection into the growing Y4K wall of fame.

For those of you who should know but don't, Nubreed are one of Australia's best dance exports; pioneering the progressive and nuskool breaks sound for some years now.

This mix is intelligent, musical and not without its fair share of dirty gritty sounds and basslines, and features the intensity and insanity of tracks from SOTEG and Si Begg to the musical wonderment of Ils and Tipper, not to mention one or two exclusives from the likes of Stanton Warriors, Andy Page and Nubreed themselves.

Hailing from Melbourne, Nubreed comprise of Jase Catherine, Michael Walburgh and Danny 'Db' Bonnici and are without doubt at the helm of the ever growing Australian breaks scene. With respect and support coming from all corners of the globe, it was about time for Nubreed to step up to the Y4K mark and put together a mix that would make a grown man cry.

They've been devastating audiences all over the place having embarked on a world tour in June this year, taking their onslaught of soaring vocals, progressive breaks, raps & rhymes, drum 'n bass and the odd tribal tech workout. As with their live shows, Nubreed have managed to put together an intelligent and intense mix whilst maintaining the musicality that makes them so popular. This is a smart mix that should be in all discerning listeners' collections.

The Y4K series can already boast Hybrid, the aforementioned Phil K, Ali B and most recently Evil Nine as contributors to one of the finest and most loved compilation series. Nubreed present their take on it, and this will make grown men cry….
Music Reviews -more-

browse