SJ Esau "Fat Cat Track"
Jacob Todd "Somehow"
Alex Stealthy "Once"
Way Out West "DFM" (Unreleased Club Dub)
Tini Tun "Over It"
Starecase " Vapour Trails"
Seyton "The Drake Equation"
Bcml "Mr Horowitz"
Starecase "Sunshine"
Yvel & Tristan "Pillow"
Lustral "Solace"
Nick Warren - Global Underground 028: Shanghai
Label:
Global Underground
| Release Date: 7/12/2005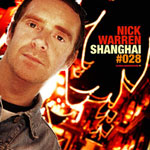 After the seminal GU024 Reykjavik mix, Nick returns to GU with a phenomenal genre-spanning selection.
Shanghai showcases an eclectic edge to Nick Warren's sound, taking influences from ambient, house, classic Warren breaks, techno, progressive and even a touch of classic acid house !
Ladies and gentlemen, welcome to Shanghai.

Pioneering dance music label Global Underground is pleased to announce the July 12 release of Nick Warren's brand new mix set, Shanghai. This marks Warren's sixth release for the label - the most by any one DJ.

You can tell when Nick Warren's on the decks. The music emanating from the man is that perfect club mix of driving percussion and soaring musicality, bursting out of the speakers, soaking everyone in melody, drenching them in sound. On the floor, where it really matters, his crowd experience all the peaks and troughs that make his music so unique. Locking on early, you'll hear his deeper take on house which morphs, as the club mood changes, into harder territory, music for sweating and losing yourself to. And at that point when the light are low, when smoke fills the room and people are dancing on instinct, that's when the melodies start to rise over the top, washing the worries and exertions of life away, completing the club experience. That's why Nick Warren is so respected, because he knows how to truly work a club, to take a crowd high, then higher again. That's what comes with vision and, just as importantly, experience.

Warren's latest mix CD is inspired by *Shanghai* - a city balanced on the cusp of change, a boom town that's got so much construction going on residents boast they keep getting lost because their landmarks have changed again. A place of contrasts: a glittering, high tech metropolis of neon and skyscrapers that still hides ancient temples in its streets. Like any fast-moving modern city, there is a thriving club scene. Clubs like Guan Di and Park 97 cater to a lot of foreigners. DKD (which stands for Decadence Kills Depression) is the city's latest hot-spot which is where Global Underground chose as the club to host the latest album in their phenomenal award winning series.

For the creation of /Shanghai/, Warren put a call out for fresh, unsigned tracks - and has ended up with a selection from 13 different nationalities. Many of these tracks have never been released. It's a truly international portrait of where the electronic music underground is at, right now. *"I wanted to showcase as many young producers as I could. Find tracks that were unsigned and give them a platform,"* says Nick. *"Record labels don't give young producers the time to go and make an album, so it's hard for them to get their music heard."* It's also Nick's most musical Global mix to date, and his broadest - there's everything on here, from indie-rock influenced vocal tracks to sweetly melodic deep house to raging acid. It's as if 20 years of DJing has been boiled down into two CDs of the freshest music he could find.

On CD1 he moves from *SJ Esau*'s dreamy "Fat Cat Track" - a track from Bristol producer *Sam Wisternoff*, younger brother of Nick's *Way Out West* partner Jody - to Moscow, and *Alex Stealthy*'s tingling, tension-building "Once." *Tini Tun*, Mexico City's leading progressive DJ, supplies "Over It," a skeletal, bottom heavy house groove. "Pillow" from Hungary's *Yvel & Tristan* couples swirling melodies and ghostly choral vocals to a heavyweight breakbeat. *Lustral*'s "Solace," from the UK, is a frenzied sci-fi disco thing that brings the mix to an end.

CD2 is equally international. *Morozov*'s "Fly Guitar" - a track Nick enticed from Russia - is an incendiary axe attack. But instead of doing the obvious and upping the pressure, he sidesteps into the eerily funky "Conversations," a remix of Malaysia's punk/hip hop crew *Pop Shuvit*. *Holden & Thompson*'s "Come To Me" is a bewitching fusion of dance and indie-rock, which lets *Julie Thompson*'s echoing voice spiral slowly through towers of sparkling guitar. *Blendbrank*'s "Synthetic Symphony" spins voice samples from what sounds like a technical manual around a dizzying acid riff. From here Nick unleashes *Hardfloor*'s "Hardtrance Acperience" and its intense 303 assault sounds just as ferocious now as it did when first released 12 years ago. From Turkey, *Murat Uncuoglu*'s "The Flame" lights an uncompromising groove with flashes of guitar and the mix finishes with Texan *Derek Howell*'s "Your Touch," a lovely techno instrumental that wobbles magnificently around curtains of melody.

Music Reviews -more-

browse