Clean Break
When It Rains
Eleventh Hour
Reverse Charge
Blue Skies
Pelourinho
Propain
Half A Hole
Secret Life Of Pants
Got It
Serpentine (Album Edit)
Swiss On Rye
My My - Songs For The Gentle
Label:
Playhouse Records
| Release Date: 10/23/2006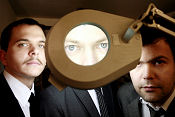 Berlin production ouftit My My have been turning heads and gaining a very respectable following over the last year or so with a series of well received EPs, most recently on Will Saul and Sideshow's new label Aus Music with the 'Butterflies & Zebras EP'. Their production work and live shows have both been praised for their versatility and uniqueness, so it comes as little suprise that on the heels of their first few EPs, they are soon to deliver their debut album 'Songs For The Gentle' on Playhouse.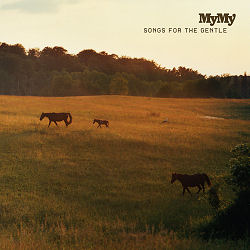 My My are hard to grasp. Sometimes they perform as a threesome, sometimes alone. Often they DJ as a team, sometimes they follow each other. You can think of My My both as a loose entity and a firm collective. It interlocks wonderfully, not only on their records, but also when they are performing live. A DJ set by Carsten Klemann introduces the night and carefully switches over to Lee Jones and Nick Hoppner doing their live set, which in turn is followed by Nick and Carsten DJing for hours and hours on end. It all intertwines effortlessly and one needs to have a close look in order to really know who is fiddling with what knob.
'Songs For The Gentle' wouldn't exist without the hedonistic whirlpool Berlin turns into weekend after weekend just after sunset. Every dancefloor has its euphoric moments, but no matter if you want polyrhythm and minimalism, something rough and abrasive, deeper shades of house music, or a little darkness, with or without a touch of electro: My My's tracks fit in everywhere.
This might result from the way Nick, Lee and Carsten have tuned into each other's different tastes and passions. Almost three years ago, they started meeting in Lee's flat once a week. Lee had just moved to Berlin from London, where he ran his project Hefner. Nick had quit his job as an editor at Groove magazine and started to produce music as well. Carsten had just started to DJ in various Berlin clubs. They ate and drank, listened to music and started to develop a common understanding of what they liked, where to go and how to get there.
Before the album, this partnership created three dancefloor gems: the EPs 'Klatta', 'Serpentine' and 'Swiss On Rye'. It's almost needless to say the trio has set up their own label JUST which has produced three 12" singles so far. It's no accident their tracks have made it into the playlists of a variety of DJs, considering how they illuminated aspects of the dancefloor in new and surprising ways; and now 'Songs For The Gentle' is measuring up the same terrain, yet coming to different conclusions.
It starts with the steadily paced 'Clean Break', switching over to the dub driven raindrop melancholy of 'When It Rains'. 'Eleventh Hour' breaks up its minimal rigidity with a silly yet refreshing sound of a bicycle bell ringing. For 'Reverse Charge' one would have to invent the genre hop house. Then 'Blue Skies' and 'Pelourinho' contribute to a crescendo that culminates in the magnificent and majestic peak time track 'Propain'. 'Half A Hole' subtly and deeply takes you by the hand, before the hip hop influenced 'Secret Life Of Pants' ends it nicely.
Not to forget, though, the three bonus tracks on the CD: one each from the EPs. 'Got It' is a cut up house banger. Then there is an album version of My My's dirty hit 'Serpentine', a surprising variation of the recurring techno theme of "driving cars". For a change, it's not about calmly cruising by night through a neon lit city. This is a wild and dusty ride along curvy coastal roads. Finally, there's the softly bouncing pop of 'Swiss On Rye' with its flanged guitar riffs, reminiscent of The Cure's 'A Forest'.
With the idyllic composure of folk music, which one can find traces of here, as well as the, sometimes, clear hip hop influence, 'Songs For The Gentle' is a classic album, which delivers just what the title promises: Songs.
Music Reviews -more-

browse