Intro;
Franco Bianco - Noches De Superacion - Italo Business
Robag Wruhme als Rolf Oksen - Rolf auf seinem Auskukk - Freude Am Tanzen
Yello - Bananas To The Beat - Mercury
Minz - Darkslide - Perspectiv
Guillaume & The Couto Dumonts - Mederico - Oslo
Quarion - Karasu [Crowdpleaser Remix] - Drumpoet Community
Gui Borrato - Tipologia [Lucy Remix] - Parquet
Mark-Henning - Sicknote - Cynosure
Decimal - Idiosynkratik - Enemy
Lucio Aquilina - My Cube - Cocoon
Booka Shade - City Tales [Dub] - Get Physical
DJ Yellow & Astrid Suryanto - To The Top [Guy J Remix] - Project
Dubfire - I Feel Speed [Audion Remix] - SCI+TEC
Martin Eyerer and Toni Rios - Chorizo - Kickboxer
Robag Wruhme als Rolf Oksen - Dopamin - Freude Am Tanzen
poxyMUSIC Ft. Gina Mitchell - War Paint (Claude Vonstroke Remix) - Hussle
Djinxx and X-Pansul – Spanish Kebab - Ovum
Matchbox - U Can Get Sonar - Kindisch
Deadset - Farm House (Deadset Dub Tool) - Front Room
DJ T. - The Dawn [Nass Remix] - Get Physical
Simon Flower - The Whisper Had It [Mark August Remix] - Pokerflat
Raz Ohara and The Odd Orchestra - Kisses - [Kabuto & Koji Carnea Remix] - Get Physical
Basic Soul Unit - Tunnels [Sebo k & Metro Remix] - Mule
Lopazz - 2 Fast 4 U [Julian Ganzer Remix] - Get Physical
Mike Monday - Bhalobashi [Sideshow Dub Mix] - Simple
M.A.N.D.Y. - Don't Stop - Get Physical
M.A.N.D.Y - Fabric 38 - M.A.N.D.Y
Label:
Fabric Records
| Release Date: 12/5/2007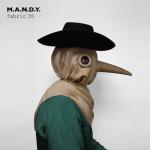 The newest release from the wonderful Fabric crew is a groovy, weird and warbly tech house masterpiece by M.A.N.D.Y. Having firmly established themselves as household names across the world with thier label Get Physical and thier productions and remixes caned by everyone, they release a delicious slice of what they do on the floor. From the moment Fabric 38 starts we know we're in for something special. We dive into a swirling mixture of cool techy stabs, mental vocals, and headbobbing beats as they move effortlessly through 25 tracks. With highlights from Dubfire, Gui Boratto, Booka Shade and none other than Yello, this is a warm and welcoming mix that is sure to please your mum.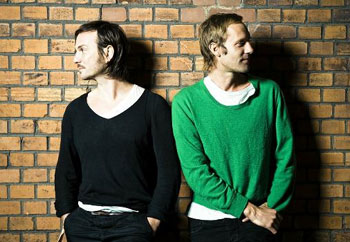 It's not often that two people discover a friendship as special as the Berlin-based creative duo M.A.N.D.Y. (Patrick Bodmer and Philipp Jung). Two kindred souls drawn to one another at a young age, throughout their many harmonious years of acquaintance they've shared complementary callings in life. The first call rang when Patrick's family moved from Zurich to Saarbrücken at the age of 15; his friendship with Philipp was immediate and vibrant, and the inseparable pair immersed themselves in sports, compilation tapes, Tears For Fears and Janis Joplin records.
Individually, Philipp kept busy shirking his keyboard lessons and borrowing his friend's drum kit, while Patrick delved deeply into art and painting. When some older friends filled their stereos with Chicago mixtapes and the sounds of early acid house in the late 80's, their lifelong obsessive love with electronica began. It was only a short matter of time before their lives were overtaken: days spent in record shops revolved into bright nights in Frankfurt's glittery clubs and parties, weeks bled into months. University pulled them apart as the years flew by, both heading to different cities to pursue their studies (Patrick in Frankfurt studying economics, Philipp in Switzerland to study hotel and tourism), but they eventually came back around to each other in Frankfurt to pursue their passions, specifically their insatiable appetite for parties.
"In '95, we were reunited again and because no one wanted to book us, we started our own nights. We used to have performances at the beginning of our parties, really wild art performances, just to break the ice. Our guests were unknown at the time but are quite famous now – Ata from Playhouse, Ricardo [Villalobos] - it was all good friends for no money. Normally we had two rooms; one would be the chill-out room, it was really calm and easy music. For this one party we rented this really nice underground club – we went to the woods and cut down 50 young trees and put them in our chill-out room to make it like a jungle. We put green lights behind it and we made a little beer garden inside the room. We were the only guys there to clean it up in the morning; you can imagine how fun that was! It was crazy. At the time, I don't think very many people did it with such love, we were never doing it to make money. But then some of our parties we would get over 1,000 people. We never used any ads for the parties; we didn't have any money at the time, so we went out 3 or 4 weeks every night and would invite every person personally – we would make a tour of every bar and every club extending invites. We never put flyers up or left them anywhere; we just gave them out personally to people." – M.A.N.D.Y.

Dabbling in the corporate world while the sun shined (Patrick working as a project manager alongside his thriving painting career, Philipp at Logic Records working for the pop band Snap) and throwing parties well into the night, their paths reached a fork in the road once again when Philipp received a tempting offer from Jive Records. Moving to Cologne for Jive, Philipp began working closer with two long-time friends and successful producers, Walter Merziger and Arno Kammermeier, who collectively produced under a variety of aliases – they would eventually become best known as Booka Shade. Walter and Arno taught Philipp and Patrick a few tips in the studio, and the four began producing together "…under a name we don't even want to mention, it was some horrible music! Hey, you have to start somewhere." Another chapter in the story began at a Bread & Butter fashion show in Cologne, where Patrick and Philipp's DJ set caught the interested ear of Patrik Dechent and DJ T from Frankfurt's Monza club. A likeminded spirit, DJ T took a liking to the pair straightaway ("T became our good friend very quickly, we loved each other from the very first second"), and invited them to be a resident a Monza, playing sets alongside fellow residents Tobi Neumann, Ricardo Villalobos, Tiefschwarz and Steve Bug every 6-8 weeks. In 2002, forming the Get Physical imprint seemed only a natural progression, as the five pieces of the puzzle fit together so perfectly: Philipp's record label and A&R experience, Arno & Walter's production talents and fully-equipped studio, Patrick's creative head and artwork, T's envious contacts book (being founder/editor of the highly influential German music magazine Groove in 1989) and wealth of knowledge. With all bases covered, the formula has proven to be nothing short of a beautiful success - 5 years on and the label's releases and artists are stronger than ever.
"Get Physical was just a hobby, but we ended up putting all of our free time and all of this energy into the label, and the success just kind of happened. It sounds so old and stupid, but it's really hard work – you're constantly thinking creatively, trying to find solutions, breaking each other's balls, going back to the studio again and again and again for the same remix for no money…But it worked out well, because everybody was so dedicated, and everybody is still to this day. To run a company with 6 people, especially with us, for five years – we really can't believe it!" – M.A.N.D.Y.
With the release of the first Get Physical compilation in 2004, M.A.N.D.Y. set the bar high for house and techno lovers alike; similarly, still to this day, three years after its explosive release, M.A.N.D.Y. and Booka Shade's 'Body Language' lingers as a standard tool stashed and cherished in DJs' record boxes everywhere. It's no wonder that M.A.N.D.Y. remain two of the world's most desired DJs and, likewise, no great surprise that fabric 38 is such a dazzling, impeccable work of art. Throughout the 25 tracks, M.A.N.D.Y. tenderly tells a story that swells between moments of poetic ache and voracious hunger. Spanned on by deep, ethereal techno, glitchy staccato and bass-heavy machine funk, the tracks sparkle alongside eachother with brilliant elegance, breeding standout moments from Gui Boratto, Lucio Aquilina, Audion and the cream of the Get Physical crop. A thrilling portrayal of M.A.N.D.Y.'s sound, the effervescent mix moves in directions most unexpected, and grooves in ways previously unimagined.
"On one CD, it's hard to capture everything you want to do within a certain amount of minutes. We try to always be – well, not to be minimal, of course not, because that's not us, but – we try to be subtle. We like to pick tracks that can exist for themselves, but which make a really nice flow for the whole mix. And you don't want to overdo it and only play the hits or too much melody…a mix should gently take you by the hand and say 'hey, this is our interpretation of the actual sound' - bit of the old stuff, bit of the new stuff. It shouldn't overload you but still it should make you move your butt." – M.A.N.D.Y.
Music Reviews -more-

browse