Mathew Dear - Tide
Isolée - Willy Skipper
Djuma Soundsystem - Les Djinns (My My Mix)
Jona - Smart Cats Vs Dumb Dogs
M.A.N.D.Y - Take Two Four
Alex Under - Collage
Dinky - Michelle
Señor Coconut - Electrolatino (Ricardo Villalobos 'Lecktro Carlño' Mix)
Osborne - Outta Sight
Jesse Rose & Henrik Schwarz - Stop Look & Listen (Henrik's Version)
Rockers Hi Fi - Push Push (M.A.N.D.Y Mix)
Booka Shade - In White Rooms (Mexico Version)
Mathew Jonson - Sub Atomic
Mile Caro & Franck Garcia - Far Away (Jennifer Cardini & Shonky Mix)
Cobblestone Jazz - India In Me
Kenny Larkin - Catatonic (Fourth State) (Stacey Pullin Mix)
Fingers Inc - A Path (Instrumental Mix)
Lindstrøm & Prins Thomas - Feel Am
Michal Holy & Ajana Calugar - Black Vanilla Guitar
M.A.N.D.Y - At The Controls
Label:
Resist Music
| Release Date: 10/23/2006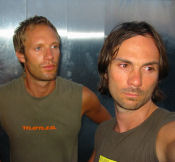 Following on from the inaugural 'At The Controls' compilation which was mixed and compiled by James Holden at the start of 2006, the next volume in this new series from Resist Music ventures across to Berlin, Germany, where the duo of Patrick Bodmer & Philipp Jung co-run the highly successful Get Physical imprint with friends and fellow musicians Booka Shade and DJ T. Whilst the duo's work as M.A.N.D.Y needs no introduction, their 'At The Controls' mix looks set to be one of their best yet.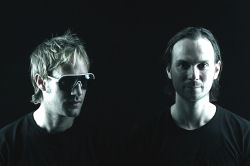 The 'At The Controls' series aims to delve deep into the musical psyches of the world's greatest contemporary DJs, and following on from James Holden's critically acclaimed album earlier this year, the baton is now passed to one of the hottest production and DJ duos around at the moment - M.A.N.D.Y.
As part of the nucleus of friends, producers and DJs who set up the Get Physical label, their success story is incredible and continues to grow with each and every release. Forging a sound that is as accessible as it is uncompromising, Get Physical's rise to prominence has been nothing short of meteoric and M.A.N.D.Y's releases have been key to helping establish the label as one of the most in demand electronic imprints in the world.
Together with label-mates Booka Shade, they created 'Body Language', a track that has since been licensed to over 100 compilations, and contributed to Get Physical Music being voted label of the year in DJ Magazine's 2005 end of year polls.
Now in 2006, with their subtle and encompassing mix of some 36 tracks across 2 discs, the duo, individually known as Patrick Bodmer and Philipp Jung join together the cream of today's forward thinking dancefloor innovators (Mathew Dear, Isolée, Alex Under, Dinky, Lindstrøm, Ricardo Villalobos, and Mathew Jonson to name but a few) with some oddities from the likes of Michal Hay & Ajana Calugar, Cat Stevens and Rune Lindbaek. Then of course there are some gems and exclusives from the Get Physical stable, six unreleased tracks and a "hidden" track to bookend it all.
M.A.N.D.Y's 'At The Controls' is a glorious, immersive mix. A stunning disco journey, and a potential classic in the making.
Music Reviews -more-

browse