6am Sedna
Theme From A Fairytale
Construction Of A Deep Space Station
Naughty
Because We Can
Computer Crash
Little Peaking
Dr King's Surgery
Shortcut to Granuland
Burma
Villain
Family Tennis
Because Lostep Can
Label:
Global Underground
| Release Date: 5/2/2006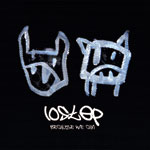 Phil K and Luke Chable, together known as Lostep, are set to release an electrifying album on GU:Music. 'Because We Can' is a phenomenal collection of sounds. It starts with a few dreamy experimental tracks to melt your mind into, before it develops into some heavy duty mechanical breaks, bursting with bass and funk in all the right places. The amazing talent of these two together in the studio will cause havoc on your mind and your feet, and will show you what kind of musical force they are. Be prepared for the onslaught, Lostep have landed and will be here for quite some time.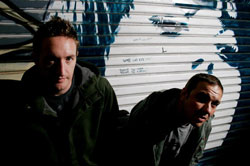 Luke Chable and Phil K who both hail from Melbourne, Australia, are successful DJ's and producers in their own right. They have mixed albums and released records for some of the biggest labels in the world and have played at some of the biggest clubs across the globe. Phil K has tuned his production technique with Andy Page, PQM and Habersham. He's also got a Therapy Sessions and a Y4K compilation album under his belt. He ranked at #5 in The Technics Inthemix.com Top 50 Australian DJ Awards. He was also one of the first DJ's to become an official global ambassador for Pioneer ProDJ when they created the DVJ-X1. Luke has collaborated with the likes of James Holden, PQM, Austin Leeds, Cass and Nubreed. He's remix discography is an impressive one; Sasha, Bjork and Gus Gus to name a few. Like Phil he's also got a mix album under his name, Renaissance presents Therapy Sessions Vol 2 with Dave Seaman and is definitely one to watch.
Originally working under the guise of "Dark Alley" with Ivan Gough is where Phil and Luke began their fondly remembered silly studio sessions. After working hard in the studio one night, the duo started having some fun with some noises and this is when the happy accident occurred. It was during this 'silly' session that they came up with one of their masterpieces. "The Roots," which features vocalist Lior Attar, came about and DJ Dave Seaman was one of the first to hear this track. He loved it and put it on his Global Underground Melbourne compilation then was quickly snapped up by Global Underground as a single. The next single "Burma" was another "happy accident" which came together again after-hours one evening. They then sent that track to Sasha who loved it and subsequently remixed it for his Billboard #1 'Involver' album.
May 2, 2006 sees the release of their first long player Because We Can. Its epic six-track experimental intro section is like a modern day prog-rock indulgence into a world of dream like sounds. Then suddenly it kicks in with some fantastic tracks that really rock the floor. It really is like nothing you've heard before. This is an album that shows the breadth of what these boys are capable of doing.
"It took about two years to complete" says Phil, "when we get in the studio we like to create everything together...the experience of writing music with someone else can be very special. It certainly feels more like being in a band this way. You live it together and you experience that joy of creating it. We are great friends and we share great memories of our creations, that's what's so fun about it, everything that goes with the creating experience becomes a great memory which ties us closer together as friends"
"We experimented a hell of a lot" adds Luke. "We listened to so much other great music from a very diverse range of artists. We tried some 'concept" tracks and obviously we had to make music that would work on the dancefloor as that is where our passion comes from. We think this album works as a dream sequence not as a DJ mix and that is the effect we wanted to create."
"We hope that this album will make people listen to music differently" says Phil.
Music Reviews -more-

browse