Satoshi Tomiie Presents Glow - Glow (Spirit Catcher Mix)
Laid - Me (Zoo Brazil Mix)
Underground Sound Of Lisbon - So Get Up (Mirabeau 2006 Mix)
Nick & Danny Chatelain - Is Killing Me
Cubic - Superflyin
Ame - Rej
Cagedbaby - Hello There (Radio Slave Mix)
Dylan Rhymes - Coming Clean (Lexicon Avenue Mix)
Lexicon Avenue - That Acid Track
Peter Presta Feat Vanity L - I Want It Liquid (Acid) (Acid Crash Mix)
Nick K - One Of Those Things
Plastikman - Spastik
Klement Bonelli Feat Dragonfly - Nocturnal (Nocturne 2)
Lexicon Avenue & Dave Seaman - Therapy Sessions Volume III
Label:
Audio Therapy
| Release Date: 9/25/2006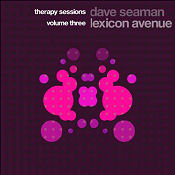 Following on from the first two volumes released on Renaissance over the past two years, Dave Seaman's 'Therapy Sessions' series now heads home to Audio Therapy, where this time around he's joined by some proper homegrown UK talent - the connaisseurs of house themselves, Lexicon Avenue. With past volumes having featured Phil K and Luke Chable, 'Therapy Sessions Volume III' looks set to be the finest in the series yet, with a who's who of current and future talent represented across both discs, and all the info you need is right here.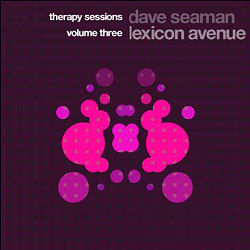 Following on from the highly successful Volumes One and Two featuring Australia's finest, Phil K and Luke Chable and done in conjunction with Renaissance, Audio Therapy now proudly present Therapy Sessions Volume 3.
Mixed by Therapy head honcho Dave Seaman alongside Newcastle's legendary, Lexicon Avenue, this superb double mix CD features plenty of exclusive tracks and mixes from a wide array of cutting edge electronic music talent including the likes of Ame, Plastikman, King Unique, Steve Angello & Sebastian Ingrosso, Satoshi Tomiie, Cagedbaby, Freeform Five, Dylan Rhymes, Radioslave and Linus Loves.
*"We certainly had our work cut out. Trying to follow the success of the first two. Phil K and Luke Chable both did amazing jobs and both CDs ended up in the Top 20 compilations of the year in DJ magazine. But this time it's an all UK affair and I think we showed the Aussies we were up to it. I know we're happy with it and I hope you will be too." – Dave Seaman*
Therapy Sessions Volume III is scheduled for release on September 26th and will be accompanied by an extensive world tour, including a launch party at Shindig in Newcastle. Futher information on the album, including samples, plus tour dates will be updated on the Therapy website - http://www.therapymusic.co.uk/.

Music Reviews -more-

browse