Life2Live (Feat Green Velvet)
Feels Closer (Feat Mino Cinelu)
Ride The Train
Me And You (Feat Tim Hutton)
Smith Street
Sunshine In Ipanema (Feat Rogerio Flausino)
Dr. Teeth
Isn't This A Lovely Day (Feat Ella Fitzgerald & Louis Armstrong)
We've Been Here Before
Hang Tough
Saudade (Longing) (Feat Jessy Molnar)
K (Feat Alison Jiear)
'Feel Closer' with Layo & Bushwacka
Label:
Olmeto Records
| Release Date: 3/13/2006

Layo & Bushwacka are set to return with their new album 'Feels Closer' in March on their new label Olmeto Records. Featuring collaborations with Green Velvet, Groove Armada's Tim Hutton and the vocals of Ella Fitzgerald and Louis Armstrong, the album builds on the foundations set by their previous work. 'Feels Closer' however will showcase a more diverse and cohesive set of music than either of their previous LPs.
With plenty of releases lined up for the new label and their first single 'Life2Live' already receiving widespread support, 2006 looks set to be a promising year for two of London's favourite sons. We have all the information on the album right here.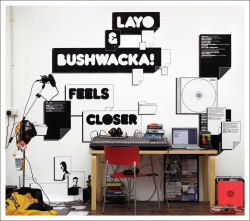 Layo & Bushwacka! have been responsible for some of dance music's most ground-breaking and unique moments and they herald 2006 with the release of 'Feels Closer', their third and finest album to date. Fans of their sound will be more than satiated but also excited with the fresh approach they've taken, adding live musicians to their palette which unites such disparate worlds as techno, jazz, pop and even opera. It's a compelling proposition.
Layo Paskin and Matthew 'Bushwacka!' Benjamin concluded 2003 with their 'Night Works' album having sold over 100,000 copies, propelled by top ten single 'Love Story'. Their live show had wowed crowds from Sonar to Homelands. They launched their residency at The End where they play 'All Night Long' every month showcasing eight hours of cutting edge sounds from an arsenal of electronic music.
For the recording of 'Feels Closer' they decided to re-charge their batteries by leaving London for Brooklyn, New York. It was a city they had found inspiring and they hoped to harness its energy and creative buzz. It's a city famed for making things happen. They found a studio, Good and Evil, steeped in atmosphere and lined with old guitars. It boasted a live room that had been tailored over many years to capture magic moments. A world of talented musicians have passed through their doors to play or hang out. Layo and Matthew just wouldn't know about, or have access to, this sort of talent in their small West London studio. Instead in NYC they found a pizza delivery boy with a talent for the sax and even managed to utilise the genius of Mino Cinelu, one of the world's most legendary percussionists, whom they found passing the studio on the street when they popped out for a fateful sandwich!
'Feels Closer' is not only their best work, it's also their most catholic while maintaining a coherency perhaps lacking from their last album. Despite the often pick and mix culture of dance music, 'Feels Closer' should be enjoyed as a full body of work. Their unique sound has been fleshed out and encompasses as many styles as you may expect from this well traveled pair, and will be released in March 2006 on their own label Olmeto Records.
Music Reviews -more-

browse