Ellis D - Took My Love Away
The Daou - Surrender Yourself (Ballroom Mix)
Marshall Jefferson Presents Truth - Open Our Eyes
LB Bad - Touch Me! Touch Me!!
Kym Mazelle - Taste My Love
N.Y. House'n Authority - APT.1A
Blunted Dummies - House For All
Da Rebels - House Nation Under A Groove
Sheila - Acid Kiss
Lil' Louis & The World – I Called U (Why'd U Fall)
Liaisons-D – Future FJP
Master C & J Feat Liz Torres - Can't Get Enough
Pierres Phantasy Club – Dream Girl
François K - Hypnodelic
Eddie Flashin Fowlkes - Move Me
Sine - I Like It Deep (Soozee Kreemcheeze Mix)
Jaya – One Kiss
KC Flightt - Planet E (House Mix)
Fingers Inc – Never No More Lonely
Metro Area - Proton Candy
Fallout - The Morning After (1990 Mix)
How II House – Time To Feel The Rhythm
Cajmere Feat Dajae – Brighter Days
Kenny Larkin – We Shall Overcome (Richie's Loonie Mix)
Soul Boy – Harmonica Track
UBQ Project Feat Kathy Summers – When I Fell N Love
Layo & Bushwacka - Global Underground: 033 - Rio
Label:
Global Underground
| Release Date: 10/4/2007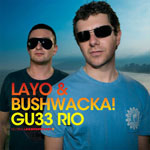 Global Underground continues to move through it's 2007 release schedule with the forthcoming release of the 33rd main series album, with Layo and Bushwacka heading to Rio. Following on from Adam Freeland's debut on the label, the Global Underground brands continues to expand and diversify away from its typically progressive roots, with Rio due for release mid October.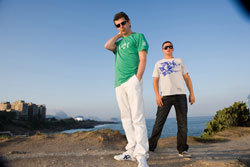 Layo & Bushwacka!'s love affair with music started as teenagers at the dawn of acid house; it's led both of them through techno, breakbeat, electro, dub, electronica, and any other pigeonhole that's been thrown up in its wake. Emerging blinking into the light almost two decades later with a sound that fuses all their influences, they've maintained their position at the head of the pack. It's the same outlaw spirit of eclecticism that still informs their five hour DJ sets, whether at their spiritual home The End in London, a beach in Brazil (the inspiration for this album), or a superclub in Ibiza or Argentina. It's this spirit that turned the limited edition 12" 'Untitled' into a global anthem, becoming 'Love Story', and crashing into the charts worldwide in 2003, including the UK Top 10.
Layo and Bushwacka! have come a long way from the teenager who frequented Clink Street's acid parties and the kid who dropped classical music for the hardcore scene. Together they took the emergent strains of techno, tech-house, electro and breakbeat and welded them onto blues, classical and film soundtracks of the last hundred years, creating the dance floor sound for our new century. The first decade of the new millennium has seen global club culture stretch its tentacles ever further. The rising epicentres of clubbing are no longer restricted to those affluent, Western nations of old, some of the brightest beacons are to be found in the new world. Rio is one such city.
On this album, Layo & Bushwacka! offer up a mix of the old and the new. CD 1 is a treasure trove of classic, lost gems, and defining moments in the evolution of house and techno. Ellis D rubs shoulders with Marshall Jefferson via Daou, Lil Louis, DJ Pierre, Francois K, and Eddie Flashin' Fowlkes are all present, as are the likes of Cajmere, Detroit's Kenny Larkin (with a rare Hawtin mix of 'We Shall Overcome'). If you want to know how we came to the music you hear today, then this is no better introduction.
CD2 is all about more recent and forward-facing bumpy, electronica. Phonique, Pier Bucci, Guy Gerber, Stefan Goldman, Martin Buttrich, and Henrik Schwarz are all included for your listening pleasure. Also included in the mix are a host of Layo & Bushwacka!'s own material, including 'Tabloid' and 'Saudade'.
Music Reviews -more-

browse