Modeselektor - Zig Zag
Claude Vonstroke - Who's Afraid Of Detroit
Steve Bug - You Make Me Feel
Wighnomy Brothers - Moppal Kiff
Kupon - Zoom Out
Booka Shade - Night Falls
Francois DuBois - I Try
Kupon - Zoom In
Felix Da Housecat - Rocket Ride
Anja Scheider & Sebo K - Rancho Relaxo
Sascha Funke - In Between Days
Booka Shade - In White Rooms
Thomas Schumacher - Red Purple
Akabu - Phuture Bound (Ame Mix)
Andrea Doria - Quantised Traffic
Extrawelt - Fernweh
Stephan Bodzin Vs Marc Romboy - Phobos
King Unique & Nubreed - Balance Presents: Electric_02
Label:
EQ Grey
| Release Date: 10/9/2006
2005 saw the creation of EQ's 'Electric' series, with Australian local Gavin Keitel talking the helm. As an offshoot from the label's highly successful Balance series, 'Electric_01' surprised many and came to be held in high regard as one of the favourite titles of the year for some, not just in Australia, but across the globe. Now one year on, and the label are set to bring the second volume in the series to us, as the dirty house dons King Unique join Australian legends Nubreed.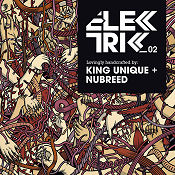 "Look! It's alive. It's alive."
So exclaimed Henry Frankenstein in response to the creation of perhaps the most famous monster that literature has produced, and similarly, the 'Electric' series has truly taken on a life of its own.
Conceived in 2005 as an offshoot to EQ's world conquering 'Balance' series, in hindsight EQ relinquished all control upon handing the reigns to Gavin Keitel. The intention had been for 'Electric' to be a platform, upon which, up and coming DJs could make their debut on the international stage without the label's commitment to cutting edge, quality underground music wavering in the slightest. While Keitel fit the bill perfectly, few could have imagined the full impact this electrically charged super-conductor would have on the series debut. If the intention had been for 'Electric' to become EQ's "quiet achiever", the culmination of Keitel's vision and subsequent outpouring of support from all forms of the dance music media quashed this idea.
While lacking the international reputation of previous Balance stalwarts such as Chris Fortier, James Holden or Paolo Mojo, Keitel had very effectively put both himself and the 'Electric' series on the world stage. This has left EQ with an unenviable, yet by no means unfortunate dilemma. That of ensuring the follow-up would be worthy of being propped upon the building block forged by Keitel's genre-spanning electro to tech-house to minimal masterpiece. As would only be expected, EQ have not only taken up the challenge, but responded with the force of an electrically charged atom. The second in the series won't disappoint those fans expecting nothing less than cutting edge, underground dance music, delivered by uncompromising compilers. Yet even with this in mind, as always, EQ have ensured a surprise of tantalising proportions.
Firstly, 'Electric_02' will be showcased over two CDs, and the involvement has grown from a single DJ on the first 'Electric' to a combined total of six artists on 'Electric_02', with one being famed illustrator & cartoonist Neil Swaab who has been named as one of the top visual artists in the U.S. by Print Magazine, creating the cover-art.
Keeping the local vibe's electric current flowing are local heroes Nubreed. While the Melbourne trio's unwavering commitment to quality can never be questioned, it would be a vast miscalculation to equate tenacity with inadaptability or inflexibility. A far cry from their lauded Y4K breaks compilation of last year, here Nubreed are given the freedom to explore the more house orientated and electro sounds that the band members find equally interesting. And judging by Danny Bonnici's Ableton assisted DJ sets in recent times the results will be nothing short of breathtaking.
The second CD is an equally exciting prospect, with dons of the dex'n'fx DJ sets, duo King Unique to be 'Electric's first international ambassador. Whether it be their own productions, remixes or radio sets, no small part in their rise to prominence is due to one high quality project after another. Unique in more than just name, their sets take the more highly publicised Ableton Live accompanied sets of Sasha to a whole new level. Having always used samplers, laptops and effects since King Unique's inception in 2001, today at least half their sets are made up of mash-ups and re-edits done in the studio, incorporating Ableton Live. To quote the boys, "While Matthew Roberts mixes these mash-ups off CDs, Matt Thomas uses Ableton to play FX, big whooshy sci-fi noises, vocals and stuttery-robo sounds over the top. Then the whole mix goes through a Pioneer EFX unit for further treatment. The result is pretty fat."
More then just fat, the result is likely to be Electric.
Music Reviews -more-

browse