Justin Martin - How I Feel (Intro)
DJ Koze - Let's Love
Stateless - Bloodstream (Henrik Schwarz Mix)
Rodrigeuz Jnr - Pina Colada (Voodeux Brew Mix)
Dapayk Solo - 50mann50hz
Onkel Brutalo - Selva (Mri Smiling Faces Mix)
Loco Dice - M Train To Brooklyn
Kreon & Lemos - Lookooshere (Wighnomy's Rollmops Rework)
Stimming - Kleine Nachtmusik (No Beats Mix)
Tim Green - Mr. Dry
Einmusik - Challenge
Radiohead - Nude (Justin Martin Mix)
Christian Martin - Elephant Fight (Justin's Jungle Beats)
Tim Green - Revox (Justin Martin Mix)
Robag Wruhme - Moscavia
Marshall Jefferson - Mushrooms (Justin Martin Mix)
The Per Eckbo Orchestra - Kodo Verano
Justin Martin - My Angelic Demons
Karmina - Wonder 21 (Matthew Jonson's 21 Roses Mix)
Justin Martin - How I Feel (Outro)
Justin Martin - Chaos Restored 2
Label:
Buzzin Fly Records
| Release Date: 10/27/2008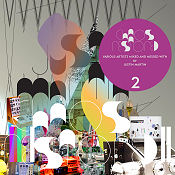 With 2007's inaugural volume of 'Chaos Restored' going on to become one of the compilations of the year, it was only a matter of time before San Francisco's Justin Martin returned to Buzzin Fly to deliver a follow up, and now as we head into the autumn, he's back with the aptly titled 'Chaos Restored 2'. another hour plus excursion through the eyes and ears of this talented DJ and producer, including his much sought after remix of Radiohead's 'Nude'.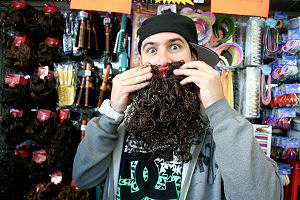 Justin Martin is a law unto himself. Since 2003 when he signed to Ben Watt's Buzzin' Fly Records on the strength of his memorable and much remixed and compiled debut track, 'The Sad Piano', he had developed a unique DJ and production style that has marked him out as a beacon of true individuality in a scene full of also-rans.
Splitting his time and talent between Buzzin' Fly and his home San Francisco crew of Dirty Bird fronted by compatriot Claude VonStroke, he has delivered a string of tracks and remixes (including 'Nightowl', 'Stoopit', 'Ghetto Train' and 'The Fugitive') that blend
deep funky floor-filling grooves and sweet soaring synths with bone-crushing sub-bass b-lines and junglist sound stabs, that have harvested plaudits from leading DJs, promoters and journalists all over the world.
In late 2007 Buzzin' Fly released his first ever mix compilation 'Chaos Restored with Justin Martin', a set that garnered a clutch of stellar reviews (Comp of The Month in DJ Magazine) and open applause ('One of the most innovative, forward thinking and down right versatile producers in house music today' / iDJ. 'This is sensational; funky, quirky and as hot as hell * * * * * ' /M8). At the same time, his set on the main dance stage at Exit 2007 put him on the map as a must-see live DJ, and such has been the demand since his appearance that he moved to Berlin for most of the summer of 2008 to be within striking distance of some of the leading clubs in Europe.
Now he returns with 'Chaos Restored 2, Mixed and Messed with by Justin Martin', a brand new set recorded in August 2008 and chock-full of bullets and blinders, mixed in his own signature sweet 'n' ugly style - one part brutal tech-funk, one part joyous, deep and goofy beauty.
Most eye-catching must be his own re-work of Radiohead's 'Nude'. Like hundreds of others, Justin simply downloaded the parts when the band made them openly available online, but unlike many of the others quite simply went on to create a genuine future classic. Hats off to Radiohead and their new label XL for giving us the chance to release it! Also included in Justin's own brutal and beautiful 'My Angelic Demons' set for a stand-alone release on Buzzin' Fly later in the year.
Together with choice picks from leading-edge labels such as Freude Am Tanzen, Oslo and Resopal Schallware, the result is fresh, offbeat and utterly funk-fuelled. Get up and dance to a unique talent.
Music Reviews -more-

browse