Youthful
Mushroom
Such A Tease
Today
Drift Away
I Have Got A Xerox To Copy
Even In This Moment
Yesterdays
Honey
We Become One
Junkie XL to release new album 'Today'
Label:
Ultra Records
| Release Date: 4/18/2006

Following on from 2002's 'Radio JXL' album, producer Tom 'Junkie XL' Holkenborg is set to release his new album 'Today' in April. Recorded just after his relocation from Amsterdam to LA. The title track was already featured in the video game 'Burnout Revenge' which was released at the end of 2005, and 'Today' looks to be yet another major step forward in the career of one of the scene's most energetic and dynamic producers. The title track will also be the first single, accompanied by a video produced by advertising agency director Glenn Cole whom Holkenborg previously collaborated with on for the Nike World Cup commercial that resulted in the his much accolated remix of the Elvis classic 'A Little Less Conversation'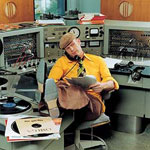 An often gorgeous journey through Holkenborg's musical interests, Today is occasionally shot through with riff-rock immediacy, and more often recalls the melodic beauty of New Order, while sometimes throbbing and pulsing like a house record. It's an album born out of the early winter months of 2005 when Holkenborg relocated from Amsterdam to the Venice Beach area of Los Angeles to concentrate on film, video game and commercial projects.
The predecessor to Today, Radio JXL - A Broadcast from the Computer Hell Cabin (2002) was a virtual, dream-like pirate radio station with the voices of Solomon Burke, Peter Tosh, Chuck D, Dave Gahan, Robert Smith and others strewn across clever, beat-laden JUNKIE XL creations. On Today, Holkenborg goes back to basics by reverting to the more guitar-based sound (yes, he also plays guitar and lots of it!) of his first two discs--Saturday Teenage Kick (1997), Big Sounds of the Drags (1999)--and the use of just one singer, newcomer Nathan Mader who also co-wrote the lyrics for "Drift Away," "We Become One," and "Even In This Moment." Long-time friend and collaborator Lucas Banker was also involved in writing the album.
Look soon for a video for the album's title track and first single "Today" will accompany the promotion of the new album. Directed by first-time video director Glenn Cole who is also co-founder and creative director of advertising agency 72andSunny, the video features Tom Holkenborg as a barber who creates outrageous haircuts for anyone who visits his barbershop. Like the sign in the window says "Get Junkified." Cole and Junkie XL first collaborated on a Nike World Cup commercial in 2002, which resulted in the JXL remix of Elvis' "A Little Less Conversation."
In addition, JUNKIE XL will embark on a national support tour that will kick off March 25 at the Ultra Music Festival in Miami. Titled the 'Feels Like Today Tour' after a verse from "Today," the month-long trek will take JUNKIE XL and his live show through several major markets across America. Dates will be announced shortly.
Music Reviews -more-

browse