Airplane Electronique
Counter Clock 319
What Used To Be Called Used To Be
Jus' Right
Dolphin Smack
Minimum 23
Everybody To The Sun
Hypnoslave
Stay Out All Night
Josh Wink - When A Banana Was Just A Banana
Label:
Ovum Recordings
| Release Date: 2/1/2009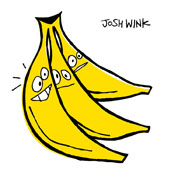 A true pioneer of the dance scene, and an artist who traverses the many genres of the underground scene with relative ease, Josh Wink is in a class of his own, and now presents his latest artist album 'When A Banana Was Just A Banana' on his own Ovum imprint. Featuring the 2008 hit single 'Stay Out All Night' as well as recent underground club gem 'Counter Clock 319'. in addition to a whole range of other great tracks, fans of the man from Philly and electronic music lovers alike should pay note one of 2009's first must have albums.
In a nutshell, it speaks really of the loss of innocence of music. Music was just music when I was growing up. Nobody was ridiculed or had views of I only listen to this one kind of music - I grew up listening to everything! Today, so many people tend only listen to one style of music with a strong opinion of why... I miss the innocence of how it was... Like when you were younger, A Banana Was Just A Banana. - Josh Wink
Philadelphia born and based, Josh Wink, is one of the true pioneers of techno, house and allied styles - blurring the definitions as a Producer and DJ. More than 20 years have passed since Wink first came into public conscious via the electronic music explosion and he still takes trends, makes trends and breaks trends; unafraid to walk the border between stylistic boundaries as he experiments and gets you under his influence.
Rewind to 1989, aged 19 and a budding young DJ on the underground rave scene, Winks first ever EP Tribal Confusion came on Strictly Rhythm, under the moniker E-Culture. More releases followed and in 1994 he formed his own label Ovum Recordings. In 1995, Wink released three hugely influential tracks Dont Laugh I Am Ready (as Size 9) and Higher State Of Consciousness, pioneering in style and still played today. He released his debut album in 1996 Left Above The Clouds (Nervous) and followed with his second Long Player in 1998 HearHere (Ovum) - working with pioneering vocalists; Trent Reznor of Nine Inch Nails, Caroline Crawley of 4AD fame, and local Philadelphia artist Ursula Rucker. Winks huge mix compilation Profound Sounds Volume 1 (Ovum) was released in 1999 and due to the success and integrity of the series, is now up to Volume 3 and still going strong.
Wink's releases have the unique quality of being revered and championed by the most underground to the mainstream, creating memorable songs that have no time or genre restraints; sparking fads in production techniques and generating innovation worldwide.
In March 2008, Wink unleashed the first single to be taken from When A Banana Was Just A Banana - Stay Out All Night defied the current music trend and was immediately made Essential New Tune by Pete Tong on his Radio 1 show, where he classed it as the biggest dance record in the world right now, as well as huge DJ support from Dubfire, Laurent Garnier, Steve Bug, Loco Dice and many more.
In February 2009 comes the full Long Player. When A Banana Was Just A Banana is presented in three formats, the CD format is in a continuous DJ mix style, whilst the vinyl and digital formats are unmixed and perfect for DJs and dancefloors.

Music Reviews -more-

browse