James Zabiela & Nick Boulton - Quantum Realities (Intro)
Decomposed Subsonics - Atlantic View
The Consumer - Your Soul For Access
Wyatt Earp & Little Mike - Android (Original Mix)
Aphex Twin - Windowlicker (Kriece Mix)
Solid Groove - This Is Sick
James Zabiela - EyeAmComputer
Soundex - On/Off
Lee Coombs - Outta My Mind (Breaks Mix)
Lee Coombs - Outta My Mind (House Mix)
Will Saul - Mbira (Infusion Mix)
James Zabiela - Robophobia (JZ's Childhood Edit)
Abysm - Future Love
Nicolas Vallee Presente Silvertone - Theme From Silvertone
Hugg & Pepp - Snabeln
Hisham Samawi & Dennis Rodgers - Through You (Outro)
James Zabiela - Renaissance Presents : Utilities
Label:
Renaissance Recordings
| Release Date: 6/20/2005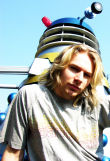 Continuing to prove he is at the forefront of DJing, embracing and aiding in the development of new technology and hardware, James Zabiela is set to release his second compilation for Renaisssance following on from the well received 2004 album 'ALiVE'.

'Utilities' sees James devote one disc to the much publicised Ableton technology, with the second disc taking the live approach championed on his previous compilation, utilising 3 CD decks, samplers and EFX units, with James once again pushing the boundaries beyond the conventional DJ methods in an effort to highlight what can be achieved in this day and age. In addition to this, the album contains two of James' debut productions taken from the recently released EP of the same name, once again drawing attention to the burdgeoning career of this young, creative star.
A debate is raging within the world of dance music – what is the future of DJing? 3 partisan camps have emerged: vinyl, CD and totally digital, using computer technology. In short, the modern DJ has more options as to how to mix than ever before. Quite remarkable when you consider but five short years ago 3 decks were considered a novelty.

Along the way there have been defining moments in this development; an outstanding example was 2004's 'ALiVE' album by James Zabiela, the compilation being the first to truly highlight just what can be done using 3 CDJs (the CD equivalent of a turntable) and an EFX unit. It even came with a short CD-ROM film demonstrating the totally live trickery that was employed.

A year on and James Zabiela once again joins forces with Renaissance for the follow-up. Given his well-documented love and support of the CDJ, you'd think that a further homage to the joys of CD mixology would be in order, but in part, you'd be wrong.
"Since 'ALiVE' there has been a huge leap in computer software. Things are continuing to move forward at a rapid speed. I therefore felt it was really important I made of use of all these technologies or utilities that are available, hence the name." - James Zabiela

Aware of the long-running debate over formats, James hit upon his own unique idea to separate the technologies and let people draw their own conclusions. 'Utilities' two discs therefore come as "Computed" and "Recorded". As the names suggest, one uses the much publicised Ableton technology and has been recorded entirely on computer, whilst the other makes a welcome return to last years format of CDJs, samplers and an EFX unit.

"With this format on the album I've employed all the utilities as I wanted to, but it's also allowed me to lay down what is essentially a musical debate. For the first time on one album, by comparing both discs, people can draw their own conclusions as to what system they prefer." - James Zabiela

But lets not forget that beyond the mixing techniques, James distinct musical style remains at the heart of the album. In a further move to distinguish the follow-up he also chose 'Utilities' to be the platform to showcase his very first foray into the world of original production. The result is two incredible cuts - 'Robophobia' and 'EyeAMComputer', which are currently causing mayhem on dancefloors round the world and both on available on the gatefold double vinyl EP and CD single with which this latest mix compilation shares its name, with both formats containing a further track 'Skanksuary' and, in true JZ style, a suite of 15 samples and sounds taken from all 3 tracks, and also the intro to this very album.

Beyond his own productions James draws on a host of current talent, including the previously unavailable Kriece remix of Aphex Twin's 'Windowlicker' and tracks and remixes from Infusion, Buick Project, Trentemoller, Lee Coombs, Montero and many more unknown and overlooked future classics that comprise this forward thinking compilation.
Music Reviews -more-

browse