Intro - F Street
Michna - Believe In It
Hearing Voices / Washington DC Street Sounds
Trentemoller - Always Something Better
Air Steward's Command
Kuriaki - Express
Teleportation Quote
Cyan341 - Pattern 4 (LJ Kruzer Mix)
4am Rain / Humanity
Boards Of Canada - Amo Bishop Roden
Ed Chamberlain - Zarathustra
Modeselektor - Vote Or Die
Lost In Desire
Near The Parenthesis - A Brief Walk In The Sea
R3volve - All That You Lost
QE2 Departs
Pedram - Meet Your Maker
Esky - Number Station
Revolve Drums / What Is Beautiful Is Very Bright
Plaid - Marry
Baggage Belt / Vilnius Security Check
Quivver - Chasin A Feeling
Near The Parenthesis - Departing Gate
Thank You / Goodbye For Now
James Zabiela - Renaissance Presents: The Masters Series
Label:
Renaissance Recordings
| Release Date: 2/23/2009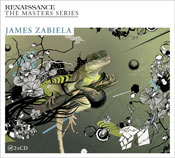 Following on from his inaugural blog and preview of the album. James Zabiela and Renaissance now present the full tracklist and further in-depth analysis of his upcoming 'Masters Series' compilation, due for release in the next few weeks. Featuring tracks from Modeselektor, Michna, Trentemoller, R3volve and Luomo to name but a few, the first disc 'Down' is a downtempo journey, whilst the second disc 'Up' is what James himself dubs 'rave music'. Read on for the lowdown.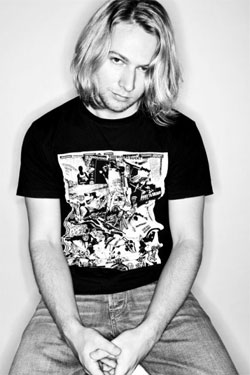 James Zabiela : The Apprentice Becomes The Master - Part Two
Welcome back to my mix blog. I'm actually typing this whilst listening back to this mix for the first time since I made it, so I'll try to make this more of a "director's commentary" than a blog this time.

Once I've made a mix I'm usually sick of it straight away, especially one like this where I've spent a lot of time on it, hearing the same parts over and over, so I gave myself some distance before going back to it again. I'm glad I did because I feel somewhat enthused by how it sounds now and hopefully that'll come across here.
So where was I? Ah yes, 'Zarathustra'. To aid the transition from 'Amo Bishop Roden' and 'Zarathustra' I brought back the percussion from 'Cyan 341' (23.59). I really love these interesting percussion sounds, which is why I used it so much over the course of three tracks, in and out. It's really organic sounding, yet still pretty techno. I kind of got quite carried away with this CD and layered a few things over one another throughout, whilst trying to keep it all quite subtle at the same time.
The next track is probably my most favourite throughout the whole 2 discs. It's certainly the one I've listened to the most. Has anyone noticed that the "shuffle" feature on iPods is not actually random? I always get the same tracks coming up. Well I'm glad my iPod loves this Modeselektor tune because it's continued to grow on me the more times I've heard it. It's off an old LP of theirs and it was when I was walking around some of the gloomier areas of San Francisco late at night that I realized this simply must appear on my mix.
I wanted to make a dramatic change in direction after the Modeselektor track whilst still keeping the same vibe. 'A Brief Walk In The Sea' has a similar mood to 'Vote Or Die' but is entirely ambient, save only for some small, subtle percussive sounds, so I brought back those favourite drums from 'Cyan 341' (34.38), which made more sense. To help the massive change in tempo and the change in key I used a pitch delay and messed about with the timings of it whilst keeping the feedback frozen in parts, much like I sometimes do in my DJ sets with the EFX. The tempo change is also on it's way down, there's a reason for that which will become apparent later, it's all part of my evil plan! On top of this transition more samples of my friend Joel's dialogue reappears (33.51). I then used a speech that contains two words, which for some people probably leads their lives 'Faith & Desire'.
The thing that is handy about Near The Parenthesis' music is that they use their own field recordings so there was no need for me to add my own to this. You can almost hear inaudible French dialogue resonate, but I was actually in Dallas the first time I heard it (anyone who follows my touring schedule will realize that this was months ago, yes it took this long for me to make this mix CD)! I'd just done a massive gig with Moby and I felt I hadn't played one of my greatest sets. Being a bit of a wet fish of a man I let it bother me quiet a bit, perhaps a lot more than it should because I just wanted to play my best - obviously!
So, back in my hotel room after the show, cursing myself for not being anything but humbled to be doing this amazing job, I put on the Near the Parenthesis LP in order to chill out and, if I'm honest, go to sleep to. This is no bad thing; their music reminds me of a lovely dream state, a bit like Sigur Ros without the whaling and a bit more Techno. Anyway, this tune made me reflect upon my fortunate position and changed my entire mood. That's the power of music and I suppose that's why my passion for it is so strong. I don't trust people who aren't really into their music. You sometimes do find these people, but for me it's hard to believe they actually exist.
On with the mix.. Mike Christiansen, aka R3volve, is a talented producer from Washington DC where this journey started. He occasionally sends me his tracks over the Internet. He gave me the freedom to be more creative by giving me the drum parts to his track. A percussive loop can be heard filtering into speakers at 38.07. 'All That You Lost' starts out like Boards Of Canada and ends up somewhere in M83 territory. The name M83 (not sure of it's significance and I don't have Google handy) sounds like a UK motorway to me, which is where I was when I first heard this on my way to a warehouse gig in Manchester. Although the event was ace it's a weekend I'd rather forget due to the massive toothache I had. I had been grinding my teeth in my sleep, perhaps subconsciously because making this CD was stressing me out! Haha. This would be hugely ironic because I've created what can actually be construed as a 'chill out' CD. Not a term I'm fond of, but never the less, this is a pretty spaced out mix for the most part. The rave music is saved for the second disc.
Back home now in not so sunny Southampton and the much celebrated QE2 ship is leaving our shores to go to Dubai for the very last time. It's on the national TV and the fireworks can be heard from my flat (44.19). They fit very well over the triumphant end of R3volve's masterpiece and for a while this was going to be how I ended the CD but it doesn't for two reasons: The first, is that I wanted this mix to tell a chronological story of a few weeks in my life (as mentioned in the first blog), and the second is that the following track harmonizes so well with this one that they run almost half-way into each other. At 47.40 R3volve's leading riff loop finally vanishes from Pedram's 'Meet Your Maker'. This is my favourite mix on the disc, sometimes tunes just work well together, in this case it helped dictate the position of the tracks on the CD. The R3volve drums make three more appearances in the mix, once here, then at the end of 'Meet Your Maker' (50.25) as it runs into Esky's 'Number Stations' and, finally, later on as a part of my aforementioned evil plan. "Quite an experience to live in fear isn't it?" says a synthesized voice..
To get around the licensing minefield of sampling speech from movies or TV I decided to use my friends acting skills and marry it to careful track selection, like Esky where the voice sounds like Mohinder Suresh from Heroes (51.17). I'm glad I stuck with sampling my pals and getting my own field recordings because I now have an audible diary that features friends and sounds from wonderful places all around the world. Am I taking myself too seriously? Probably.
More later.. Jz
Music Reviews -more-

browse