Harry Gregson Williams - Desert Chase (Seraphim Falls Soundtrack)
Trentemoller & Buda - Gamma (Original Mix)
Massive Attack - Sweet Is Good (Danny The Dog Soundtrack)
Trifonic - Parks On Fire
Lostep - 6am Sedna
Andy Page - Yellow Tracksuit
Vector Lovers - Last Day Of Winter
Stefan Anion - Das Land Spricht (Post Apocalypse)
Spooky - The River
John Murphy - Going Home (28 Weeks Later Soundtrack)
Harry Gregson Williams - Saladin (Kingdom Of Heaven Soundtrack)
Gorillaz - Film Music
John Murphy - Franks Death (Soldiers Reqiuem in D Minor) (28 Days Later Soundtrack)
Charlotte James - Shadows Of The City
Mark Isham - Flames (Crash Soundtrack)
Barry Jamieson - Arp Thing
Ryuichi Sakaomoto Feat. David Sylvian - World Citizen
Harry Gregson Williams Feat. Lisa Gerrard - Man On Fire (Man On Fire Soundtrack)
Hybrid - SoundSystem 01
Label:
Hope Recordings
| Release Date: 7/17/2008
Following on from the 2006 artist album 'I Choose Noise', Hybrid return with a double CD mix compilation entitled 'Soundsystem', marking their first album release on new home label Hope Recordings. Drawing upon the sound upon which their roots were forged, Mike Truman and Chris Healings intersperse elements of some of their favourite soundtrack score pieces throughout, some of which they contributed to themselves, whilst also showcasing some of the latest self produced material and also that of occasional collaborator Charlotte James. Watch out for it's release this June.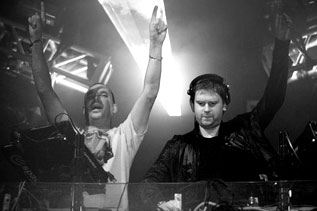 Mike Truman and Chris Healings are better known to the world as electronic pioneers Hybrid. The duo have blown audiences away with their jaw-dropping live show as well as excited listeners across the globe with three albums pushing the boundaries of electronic music.
While cinematics and soundscapes have always been an element of the Hybrid philosophy, on new album 'SoundSystem 01' they have broken new ground and taken their cinematic side to the next level. Having worked on film scores for blockbusters such as Kingdom Of Heaven, Man On Fire and upcoming Batman sequel, The Dark Knight, atmospheric compositions have become a common component of their sound.
On CD 1 of 'Soundsytem 01' they have worked this style in to their own work, mixing parts of film scores with ambient electronica to stunning effect. Tracks from artists such as Trentemoller, Spooky and Andy Page blend seamlessly with scores from feature lengths including 28 Days Later and Hannibal, to create an aurally beautiful voyage into Hybrid's new world.
CD 2 takes a more traditional route for the band, though still represents a new advent for the Hybrid sound. Taking them into more solid 4x4 beat territory they experiment with a much techier feel than heard on previous outputs, 'Wide Angle', 'Morning Sci-Fi' and 'I Choose Noise', which promises to keep clubs packed and dancefloors grooving 'till the early hours. 'Soundsystem 01' will not only please Hybrid fans of old, hoping to hear more club hits, but should also win over a new generation of techno lovers.
Along with the release, fans can expect extras in the form of a full booklet inlay with a comprehensive biog of the band to date, a version of single to-be, 'Formula Of Fear', and a taster of their live show. In short, Hybrid's fourth album encapsulates all aspects of their previous works, from Swansea studios to epic film scores, but also continues to do what Hybrid have become synonymous with, progression and innovation.
The band also cite 'Soundsystem 01' as a snapshot of their infamous live shows and something to keep people happy until they hit the road again in 2009.
Music Reviews -more-

browse