Until Tomorrow (Stefan Anion & Starfire Mix)
Just For Today (Jerome Sydenham Mix)
I Know (Keenan & Anderson Mix)
Falling Down (Kosheen DJs Mix)
Finished Symphony (Deadmau5 Mix)
If I Survive (Jerome Sydenham Vocal Dub)
Keep It In The Family (Tomas Barford Mix)
Higher Than A Skyscraper (The Orb 'Towers Of Babel' Mix)
Blackout (The Cinematic Orchestra Mix)
Hybrid - Re_Mixed
Label:
Distinctive Records
| Release Date: 10/29/2007
Hybrid could be considered stalwarts of the progressive music scene, with their music having transcended the past decade, with three artist albums, 'Wide Angle', 'Morning Sci-Fi' and 'I Choose Noise' all well received by an ardent and devoted fanbase, each album spawning several classic tracks. Now Distinctive Records have taken those best tracks and enlisted the services of such names as Deadmau5, Serge Santiago, Group Therapy, Deadset (formerly Cass & Mangan), The Orb and The Cinematic Orchestra to provide their own versions of these tracks. Collectively they form a collection aptly titled 'Re_Mixed', which will be released at the end of October.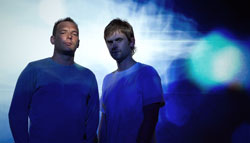 The duo of Mike Truman and Chris Healings are better known to music lovers worldwide as Hybrid – one of the most successful and well-loved electronic acts of the past decade. Since 1999 the group have dabbled in chart hits, created a jaw-dropping live show (which famously saw them tour the US with Moby), worked with Tony and Ridley Scott on movies including Déjà vu, Kingdom of Heaven and Man On Fire and found constant work as remixers for the likes of Future Sound Of London, BT, REM, UNKLE and more.
Their new album sees the tables turned as some of the hottest names on today's scene work their magic on Hybrid classics. Deadmau5, Tomas Barford, Cinematic Orchestra, Jerome Sydenham and Serge Santiago take their pick from the band's three albums, bringing them bang up to date for fans of old, and appealing to a whole new audience.
Distinct'ive have put together a double CD package of exclusive tracks, CD1 leading listeners down the trademark cinematic path with Deadmau5's take on the band's first hit 'Finished Symphony' while Jerome Sydenham has remix duties on 'If I Survive' , while the appropriately named Cinematic Orchestra round things off by tackling 'Blackout'.
Brighton-born, Italian monikered boardsmith Serge Santiago tackles 'Until Tomorrow' on the second CD – an all-together tougher collection. Hybrid give an exclusive take on their track 'Sleepwalking' and include their classic 'Rolling Thunder Remix' from 'Theme From Wide Angle' while Elite Force and Deadset do their worst to 'I Choose Noise' and 'Finished Symphony' respectively.
As the first ever album of Hybrid tracks remixed the double-CD package takes the best of the band's three albums – 'Wide Angle', 'I Choose Noise' and 'Morning Sci Fi' – and gives them a unique 2007 twist. The Swansea duo have never been easy to pigeon hole and by picking the cream of the current dance crop for Re_Mixed, Hybrid have given their sound a fresh update, guaranteed to whet appetites before their US tour later this year and artist album due in 2008.
Music Reviews -more-

browse