Secret Circles
Dogstar (Feat Perry Farrell)
I Choose Noise
Falling Down (Feat Judie Tzuke)
Last Man Standing
Hooligan Spirit
Choke (Feat John Graham)
Keep It In The Family
Until Tomorrow (Feat John Graham)
Dream Stalker
Just For Today (Feat Kirsty Hawkshaw)
Hybrid - I Choose Noise
Label:
Distinctive Records
| Release Date: 9/18/2006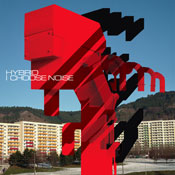 It's been almost 3 years since Hybrid released their second album 'Morning Sci-Fi'. Since then they've made the transgression from producers into score composers, contributing to the scores of such films as Man On Fire, Domino and Kingdom Of Heaven with Harry Gregson-Williams, in addition to their first full score for the upcoming film Catacombs, and now they are set to release their third artist album, the cinematically epic 'I Choose Noise'.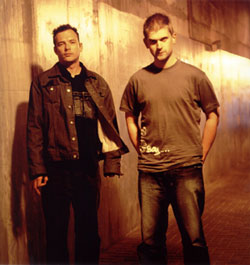 Hybrid need little introduction in the world of electronic dance music; Mike Truman and Chris Healings have been writing, producing, touring and DJing all over the globe for the best part of a decade and have amassed nearly 250 productions to date, and are now set to release their third artist album 'I Choose Noise'.
Preceding 'I Choose Noise' was 1999's Wide Angle and 2003's 'Morning Sci-Fi'. Both released on their long standing record label, Distinct'ive Records, worldwide sales on these albums stands at over 170,000. The recording session of Wide Angle took Chris and Mike to Moscow to record with the 85 piece Russian Federal Orchestra at MOS Film Studios, to New York to record David Lynch's chanteus Julie Cruise and to Paris to record with Parisian rapper E MC. The LP was a blend of widescreen cinematic reference mixed with the throb of the newly forming break beat culture that was germinating in London. Subsequently from the release in the US on Warner's Kinetic Records, the duo were hand picked by Moby to support him on his 2000 North American tour which covered 43 dates over 56 days, from LA to New York.
The second LP¸ Morning Scifi, was debuted at Miami's WMC festival, Ultra and another bus tour of North America kept them on the road throughout the autumn of 2003. 'Morning Sci-Fi's more fragile and darker sound featuring the 24 piece St Petersburg Hermitage Orchestra led them to getting involved in scoring for film and the duo worked with Harry Gregson Williams in January 2004 on Tony Scott's Man On Fire. They were involved in the production of the score for Ridley Scott's Kingdom Of Heaven and the latest Tony Scott film, Domino and have recently completed their first solo score for Twisted Pictures newest production, Catacombs. During their album sessions and touring dates, Mike and Chris have remixed a vast array of artists, now totalling over 120, including Alanis Morrisette, Future Sound Of London, Jean Michelle Jarre, UNKLE, Radiohead, REM, Moby, Carl Cox, Crystal Method, BT, Sarah McLachlen and The Orb to name only a few.
Healings and Truman have long been known as one of the most technically adept production outfits in the industry and it's personified on the new record. A heavy breakbeat backbone is supported by sublime sounds of the 36-piece Seattle Orchestra and a score co-written by white hot Hollywood composer Harry Gregson-Williams. Rock legend Perry Farrell stopped by and lent his voice to the epic 'Dogstar', and even brought his Porno For Pyros mate Peter Distephano along to drop some guitar licks throughout the album. Elsewhere, vocal contributions come from sirens Judie Tzuke and Kirsty Hawkshaw; and John Graham, best known for his productions under the Quivver moniker.
The coming months will be non-stop for Hybrid. They've co-wrote three tracks for Perry Farrell's much anticipated Satellite Party CD, including a completely different version of their own track 'Dogstar'. Hybrid are also providing additional music and sound design for Harry Gregson-Williams' score of Déjà vu, a new film from Director Tony Scott, and continue their global live and DJ dates in Australia, USA, Asia and the top festivals across Europe and the UK, as well as continuing their US residencies.
Music Reviews -more-

browse