Hernan Cattaneo - Renaissance Presents: The Masters Series
Label:
Renaissance Recordings
| Release Date: 5/25/2009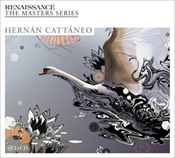 Renaissance celebrate the release of their 50th album with one of their favourite acolytes, Hernan Cattaneo
There were only a handful of candidates to handle Renaissances 50th album milestone, but perhaps none more suited than Hernan Cattaneo. His previous entries into the series have established themselves as true classics, giving rise to calls, emails, even PMs to the Renaissance office imploring us to re-secure the talents of the legendary South American.
In light of such demand, who were we to argue?
Add in the heightened anticipation of the fact its Hernans first compilation in two years and the stage is well and truly set, perfectly echoed in a recent post by one avid member of a dance message board, Damn, this is a must have compilation!
And Hernan has clearly risen to the challenge. Working alongside various friends and producers from around the world he blurs the lines between artist album and compilation by including no less than 12 of his own originals, edits and remixes within the 29 strong, 2CD track list. Youve got to distinguish a compilation in this digital age, he says, Its important fans and listeners feel theyre getting a unique mix, elevated beyond a standard club set. I hope this comes across with the album, its the product of many sleepless nights, hours in the studio and a lot of care and passion.
Looking to the wider selection its clear Cattaneo hasnt rested on his laurels as he features some of the brightest luminaries from the scene, taking in James Zabiela, Danny Howells, Guy Gerber, Timo Maas, Skylark, Guy J, Henry Saiz, plus many more, all segued by his flawless mixing style; yet another timeless addition to Hernans body of work and the Masters Series.
Music Reviews -more-

browse