Take My Breath Away
Atomic Soda
Colors
Opus 17
No Turning Back
Azzurra
Les Enfants
Besides
Ballroom
Eggplant
Godet
Gui Boratto - Take My Breath Away
Label:
Kompakt
| Release Date: 3/23/2009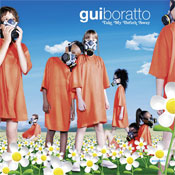 It's been the best part of two years since Gui Boratto's Kompakt debut with the album 'Chromophobia' occured, and while his career has continued on an upward spiral ever since, everyone has been anticipating a follow up for quite some time. The wait however is soon to be over, as his sophomore album 'Take My Breath Away' is due to be released in March, preceded by the 'Atomic Soda EP' in February.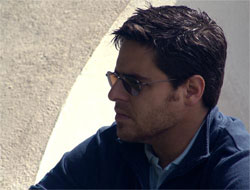 Two years have passed and much has changed since Gui Boratto shot to prominence with his Kompakt debut 'Chromophobia'. A much needed spot of colour amidst the minimal milieu, Gui's mixture of fierce production skills and a blissful pop sensibility have characterized his trajectory to the techno heavyweight before us today.
Amidst a rigorous touring schedule and busy family life arises 'Take My Breath Away', Gui's eagerly anticipated sophomore album. Laced with subtle critique and double-entendre, Gui's philosophical approach is adept at packaging the rough, smooth, bitter and sweet into a number of emotive and ultimately optimistic productions.
The title track is a fitting example. Equally a statement of concern and call for solidarity, 'Take My Breath Away' conveys a sense of scale and immediacy with soaring melodic progressions and pounding bass. Epic and densely constructed, clattering metallic tones escalate to a howling climax before a deep pulsed drive to close.
Recent single 'Atomic Soda' rasps with gritty hovering synth and complex rhythms, phase transitioning into a monolithic bass stomp with staccato percussive modulation that was built to move. The bit crushed melodies of 'Colors' enters shimmering dream pop territory, while 'Opus 17' marks Gui's 17th album track, continuing the lineage of his debut with a mixture of droning Cologne, shuffling IDM beats and kaleidoscopic synth textures.
'No Turning Back' jars with uneasy cyclical rhythms, developing a tension that breaks with a chorus as grandiose as it is energetic. Gui's wife Luciana Villanova provides the Midas touch yet again, contributing a stirring vocal reminiscent of her contribution to Gui's anthemic 'A Beautiful Life'.
More understated than it's predecessor, 'Azzura' swings with delicate harmonic shifts, while 'Les Enfants' features a tripped out organ melody and live drum break to continue the brief descent in pace.
'Ballroom' is strictly club material, probing with stabbed synth and the hardest kick on the record. Taken deep and destabilized with uneasy melodic tones, it provides a fitting introduction to closer 'Eggplant'. Patiently progressing from ascendant synth chords to a tightly wound concoction of frenetic percussion and dissonant harmonic elements, 'Eggplant' gathers enough energy to break the most vegetative of states.
Music Reviews -more-

browse