Statement Of Intent
Good To Go
Rock This Place
Turn It Round
On The Run
A Recording
Jason Calling
Shadow
Tell Me What You Want
The Easterner
Rattle Ya Cage
Never Gonna Stop The Show
The Westerner
General Midi - Midi Style
Label:
Distinctive Records
| Release Date: 10/10/2005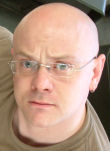 Bristol producer Paul Crossman's career has always revolved around the breakbeat sound. Some might even say he was born a breaks freak. This is supported by the high regard in which his music is held amongst his peers in the breaks scene, with contributions to labels such as TCR and Kilowatt over the past few years all meeting critical acclaim. Having recently become the latest artist to join Distinctive's ever growing roster, he is now set to present his eagerly anticipated debut album 'Midi Style'.

In addition to the well known track 'The Westerner' the album features guest appearences from fellow Bristolians and friends MC Jakes, Miss Byrony Blue and MC Chickaboo. Further details can be found out by checking out this news preview on what looks to be yet another feather in the cap of the Distinctive label whom so far have had a tremendous 2005.
General Midi (aka Paul Crossman and studio partner Eels) are the latest addition to the Distinctive collective with the debut artist album 'Midi Style'.

'Midi Style' is a huge piece of work soaked with an eclectic, old school flavour of electro breakbeat - from arguably one of the industries most respected producers. Pounding beats and in your face vocals intertwine with a cacophony of old skool synth sounds to produce an addictive and intriguing debut.

With a little help from collaborators MC Jakes and MC Chickaboo, 'Midi Style' is an album with a whole lot of attitude, an ingredient often overlooked by today's breakbeat intelligentsia.

The opening track, 'Statement of Intent' sees MC Jakes spell out the General Midi manifesto and assure the listener of what they can expect, and not one to be pigeon holed General Midi incorporates many sounds into his production. 'Rock This Place' sees some old skool flavas, MC Chickaboo joins General Midi on his Ragga-tipped 'Turn It Loud' and some body popping electro type behaviour is employed on 'Tell Me What You Want'. A little something for everyone.

General Midi pushes a multitude of sonics that help provide the eclectic edge to 'Midi Style'. Big beats, clever vocals and a super-tight production are all helped along by artists MC Jakes, MC Chickaboo and Miss Bryony Blue - giving a personal but complete stamp to the Midi flavour and sound.

Emerging from the backrooms of the Bristol club scene he has dj'd extensively from Sydney to Singapore. Previous single releases on some of the best breaks labels from TCR to Kilowatt all hold the man Midi in good stead for a big 2006…
Music Reviews -more-

browse