Inaqui Marin - Six
Osunlade - Pride (Tiefschwarz Mix)
Drama Society - Crying Hero (Tiga Mix)
Robert Babicz - Mover
Einmusik - Jittery Heritage (Ego Express Mix)
Hugg & Pepp - Elektrofant EP (Snabeln)
Further - Stay With Me
Double X - City Lights
Sasse - Soul Sounds (Dirt Crew Solid Diamond Mix)
DJ T - Rising
Dirk Leyers - Wellen EP (New Serious One)
Broker/Dealer - Dig Deep EP (Boots & Pants)
Superpitcher - Happiness (LP Version)
Gavin Keitel - Balance Presents : Electric_01
Label:
EQ Grey
| Release Date: 6/20/2005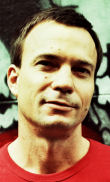 Building on the foundations put in place by the internationally acclaimed 'Balance' series, EQ are now set to launch a new offshoot series entitled 'Electric', which aims to continue the label's commitment to deliver cutting edge underground music, focusing on some of the future stars of the music scene, and some of the best up and coming talent from Australia.

Holding residencies at some of Melbourne's most well respected nights such as Sunny, and with a DJ career that spans over a decade, Keitel's interest in selecting some of the most interesting and unobvious music rather than trying to be a superstar makes him a natural choice to spearhead this new series, and we have all the details on the inaugural compilation in this new series right here for you, in addition to some background information one one of Australia's best resident DJs.
Australian label EQ's new 'Electric' Series is an offshoot of the internationally acclaimed 'Balance' series which will continue its commitment to deliver cutting edge & quality underground music. Following the established and internationally acclaimed 'Balance' series which has already showcased the talents of people like James Holden, Phil K and most recently Chris Fortier, the Electric Series looks to the future of electronic music and some of the best up and coming talent from Australia. 'Electric 01' sees Gavin Keitel set the benchmark for the series and forge a path amongst the best underground and established DJ talents in Australia.

Amongst the Melbourne electronic dance music community, Gavin Keitel is the quiet achiever to have made the biggest impact. With 18 years of professional DJing behind him, starting out at age 16 in Darwin, and culminating in his outstanding performances at his residencies at Melbourne's Sunny, 161 and other important underground clubs, Gavin continues to hold some of Melbourne's longest standing and influential residencies. He has kept his eye not on the prize, but on the movement.
Keitel is more interested in blowing someone's mind with an intelligent selection of records rather than trying to be a superstar. As such, he has avoided becoming a product of any big promotion machine and has aligned himself with good music, rather than brands, labels and crews.

Instead of being the pin-up boy, Gavin is the DJ that any crew might call to get the job done right, and to add credibility to the event. Whether it be the local house club, the 8000 person event, or the national tour, he is often entrusted with the most delicate set times for the most important events. Why? Because he is focused on the moment, the movement, and the sound.

"If you've got a cutting edge record that you want to use to take a club to the next level, but you get the timing wrong, you've wasted the moment. My approach to key mixing and knowing my records inside out means that I never miss that opportunity." - Gavin Keitel

The result for Gavin is a style of DJing that is described by his peers as simply brilliant. Perfect, even. But for Gavin, it's not a big deal, it's just how it should be done. He is amongst the hardest working and most respected DJs in the country.
Gavin is not concerned about which bill he's playing on next, or which big names he has supported in the past. Instead, he is preoccupied with the flow of emotion and energy in each record, and in perfecting the craft of controlling the relationship between those records for the benefit of the dancefloor. His frame of reference is between education and entertainment.

"You've got to give the dancefloor a bit of credit, instead of slamming out hit after hit." - Gavin Keitel

Whether Gavin is exploring the depths of a Sunny set, maintaining a house groove or pushing the German minimal tip, he lets the music do the talking. A DJ set at the hands of Gavin Keitel is a pleasure in any music lover's books. He brings with him the highest level of professionalism, coupled with a raw passion for what he does. That is why he has been, and will continue to be one of Australia's premier league DJs.

'Electric_01' will be released in Australia and Asia first on June 20th, with a full worldwide release in the UK, USA and everywhere else on 22nd August 2005.
Music Reviews -more-

browse