Intro
Audio Damage
De-Mystified
Turning Switches
Deep Inside
Writers Blok
The Channel
Towards The Sun
View To Me
Riffulator
Sorcerary
Kissing Air
Future Funk Squad set to cause 'Audio Damage'
Label:
Default Records
| Release Date: 4/24/2006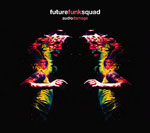 The long anticipated debut album from The Future Funk Squad is due to be released in April on Default Records. Fronted by Glen Nicholls, this group of individuals that include Tamra, MC Mojo and Kirsty Hawkshaw has been tearing up the live circuit for some time, and the album 'Audio Damage' looks set to be a must for any disconcerting breaks fan.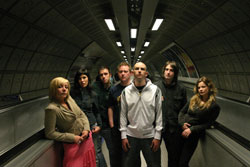 The hugely anticipated debut album from the UK's premier funk riddled breakateers The Future Funk Squad is to be released in April. With it's uncompromising mix and blend of sounds and styles Audio Damage straddles hip hop to soul via breaks; a musical work out to challenge those with leanings in any genre.
Best known for their remix work, Future Funk Squad had their breakthrough with a remix of club classic Raze - Break 4 Love. Head honcho Glen Nicholls, the producer/mastermind behind it all, has done remix work for such diverse acts as Moloko, Mint Royale, Lamb and The Stanton Warriors. Most recently he remixed the massive Mylo tune Drop the Pressure and Spitfire by his heroes The Prodigy. This album, therefore, was never going to be easily pigeonholed was it.
The leap from dance tracks and remixes to songwriting is not an easy one. But by combining his club friendly beats with the vocal talents of Tamra, Mc Mojo, Ben Keenan, and the legendary Kirsty Hawkshaw, Glen has managed to combine the great feel of British pop songs with the self-confident swagger of the underground dance scene. He cites Depeche Mode and Erasure amongst his musical heroes and this album is at once very current sounding without watering down that classic electronic pop sound.
With one foot firmly planted in the breaks scene, the other hops between shades of hip hop, electonica, house, and most noticeably the golden age of British dance music of the 90's; with hints of: Stereo Mc's, Rebel Mc, Leftfield and the Prodigy. There is also a much more down-tempo Lamb/Portishead/Thievery Corporation influence to the album which gives it it's truly broad appeal.
Tracks such as Sorcerary display such appeal being recently included on the massive FIFA2005 computer game. Whilst the chantingly beautiful vocal led De-Mystified takes you to a very different place. The title track Audio Damage is the ultimate urban dance cut and once more opens the listener to the diversity in style that FFS have in abundance, and the full Funk Squad live experience is currently on the road for lessons in music theories of a Future kind….
Music Reviews -more-

browse