Race You
The Wonder
All Night
Silver Ponds
Ambush
Rivalry
I Remember
Other Plans
Ghost Towns
Continuous Songs
Fiery Affair
Wrong Way All The Way
Back In The Day
Release Me On The Floor
Figurines - Skeleton
Label:
Strange Feeling Records
| Release Date: 5/14/2007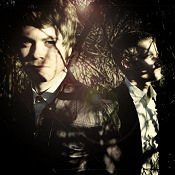 Ben Watt's brand new label Strange Feeling is proud to present the Danish quartet known as The Figurines. Dubbed as "best international band" by UK rockers Kaiser Chiefs, their album 'Skeleton' has already developed them a strong fanbase in their home country as well as America, and after a debut single which saw Ben Watt provide two excellent remixes, 'Skeleton' will soon see it's release in the UK and the rest of the world, as the first album release from this new Indie label.
Skeleton is the debut UK release (second album proper) from Copenhagen's Figurines, recently dubbed "best international band" by the Kaiser Chiefs in an NME poll. Originally issued on home turf in 2004, the album gets its long overdue UK and widespread release via Ben Watt's brand new Strange Feeling Records, the sister imprint to the award-winning underground House and Techno label, Buzzin' Fly.
File this raw, honest and infectious album next to the debut efforts from Clap Your Hands Say Yeah and former touring mates Cold War Kids and Tapes 'N Tapes. Despite the difference in geography, this Danish four-piece operate in the same musical landscape. Listen carefully and you'll also hear shades of Modest Mouse, Violent Femmes, Pavement and The Strokes jostling beneath Christian's Neil Young-minus-the-ennui vocals. The common strand between them all is great songcraft and raw energy - Figurines have both in spades.

The nucleus of Figurines – Claus Salling Johansen (guitars), Christian Hjelm(vocals) and former member Andreas Toft (bass) - grew up together in northern Denmark. Like so many small-town bands, they began making music because there was simply nothing else to do. Before long, they hit on a winning sound and released a debut EP in 2001. Chalk another one up to boredom. A move to Copenhagen and some personnel changes followed (the addition of Kristian "Volle" Volden on drums, Mads replacing Andreas on bass and Jens on keys and guitar), resulting in the fully formed Figurines.
Since making that move, their world has become a lot bigger. Figurines have taken the time to conquer the music world by territories. With mainland Europe covered, they toured the States extensively in 2006, storming CMJ finding a keen audience for their distinctly US-centric rock. Now, finally, it's the turn of the UK and the rest of the world. But what took us so long?
Music Reviews -more-

browse