Apparat - Not A Number
Fairmont - I Need Medicine
Dusty Kid - Cowboys
Wally Lopez - Go Ahead (Patric La Funk Mix)
Peter Edison & George Skanderberg - Patterns Of Thought
Gui Boratto - Mr. Decay (Robert Babicz Universum Disco Mix)
Stel - Godthab
Christian Fischer - Karatschai Lake
Joe T. Vannelli - Harlem (Mark Knight Dub)
Skylark - Escalator
Eelke Kleijn - It All Comes Together c/w Couture Feat. Rachelle - Afterglow (Acapella)
Sennh - I Am With You
Sasha - Who Killed Sparky?
MOS - Waterhølle
Underworld - Beautiful Burnout (Mark Knight Remix)
Dave Seaman - The Masters Series Volume 10
Label:
Renaissance Recordings
| Release Date: 3/10/2008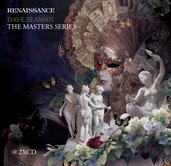 Mention Dave Seaman and thoughts of a Renaissance album are invariably never that far behind, so it's fitting the most 'capped' player return to handle the honours for the 10th volume in the prestigious Masters Series.
The result is a varied excursion through electronica / dance, which – as ever – demonstrates Dave's impeccable mixing and programming skills. Kicking-off from the left side of the field, Disc 1 blends two of dance hottest new properties, Apparat and Fairmont before taking-up the more traditional dance-reigns by way of Dusty Kids 'Cowboys'. From there things rise to a quick gallop incorporating a who's who of the current scene from Gui Boratto, Christian Fischer, Mark Knight, Skylark, Sasha and, of course, Underworld, who provide the closing crescendo with their very excellent 'Beautiful Burnout'.

*"I've always viewed the Masters Series as a lasting snapshot of the very best the scene has to offer at that time," says Dave, "Getting the balance right is never an easy task, so it's always a long, hard process, but that only serves to make the end result more rewarding. As ever, my greatest hope is the fans and all who listen to it enjoy it too."*

Dave keeps his self-imposed brief firmly in mind as he flips to the clubbier Disc 2, with contributions from Martin Buttrich, Solomun, Popof, Oliver Huntemann, Dubfire and Umek, concluding yet another incredible chapter in the Masters Series.
Music Reviews -more-

browse