Skyline Lounge
Breathe in (Featuring Angel-A)
Overkill (Featuring Kristy Thirsk)
In Suspense
Massif
Love it, Live It (Feat MC Flint)
I See Light (Feat Govinda)
The Power Of Love (Feat DJ Rap)
Sometimes
Waiting For You
Perfection (Feat Ceci Castelblanco)
Skyline At Night
Bonus: "Waiting For You" (Dub Mix)
Bonus: Matt Rowan "Her Strength" (D:Fuse & Hiratzka Remix)
D:Fuse & Hiratzka - Skyline Lounge
Label:
Lost Angeles Recordings
| Release Date: 7/24/2007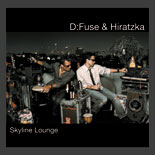 On July 24, D:Fuse and Mike Hiratzka team up to bring you Skyline Lounge - the first release on their new Lost Angeles Recordings label. A combination of smooth electronic pop, gentle house music and downtempo rhythms, Skyline Lounge is a song-based album that transcends the transient nature of most club music.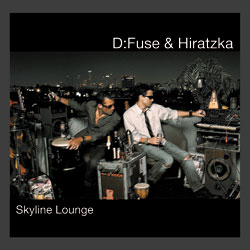 Skyline Lounge is a project that came about with D:Fuse and Hiratzka's desire to get out from under the strict confines of dance tracks and to move into more traditional song writing and production. In fact, a big part of D:Fuse's recent move from Texas to Los Angeles was to completely immerse himself in the writing process with partner Mike Hiratzka. Before the move, the music making process was forced to be quick and over a set number of days. With more time to conceive and create, D:Fuse and Hiratzka relaxed with the music and left ample room to see the ideas flesh out.
"When we started writing the album we didn't put terms on anything. We just wrote and performed what sounded good to us; whether that be virtual synths or live instrumentation via drums, guitar, bass, or vocals.
After a few songs we realized everything had a cohesive feel. To us it felt like a city rooftop at night. The energy of the city combined with the beauty of a skyline. That's where Skyline Lounge and the subsequent cover concept came from. We literally spent an entire day hauling vintage gear and living room furniture up flights of stairs to a rooftop in Midtown LA to get the shot," D:Fuse says.
D:Fuse and Mike Hiratzka have been collaborating on studio projects for several years. After working together on D:Fuse's last mix compilation (People 3), they toured a live show that featured D:Fuse DJing and playing an electronic drum kit and Mike Hiratzka on guitar, bass and keyboards. Together, both artists felt the next logical step was to do an album that would incorporate live instrumentation and electronic elements, as well as their own vocals. "The album has really allowed us to explore different sonic realms, and focus on our songwriting craft from a completely different mindset than when we're writing DJ-oriented tracks," Hiratzka says.
Skyline Lounge also features a number of talented vocalists including DJ Rap ("The Power Of Love"), Delerium collaborator Kristy Thirsk ("Overkill"), Ceci Castelblanco (Perfection"), MC Flint ("Love it, Live It") and Angel-A ("Breathe In"); and violinist Govinda ("I See Light.")
Skyline Lounge is released July 24 through D:Fuse & Hiratzka's own Lost Angeles Recordings label
Music Reviews -more-

browse