Galvanize
Hey Boy Hey Girl
Block Rockin' Beats
Do It Again
Believe
Star Guitar
Let Forever Be
Leave Home
Keep My Composure
Saturate
Out Of Control
Midnight Madness
The Golden Path
Setting Sun
Chemical Beats
Chemical Brothers - Brotherhood
Label:
Freestyle Dust
| Release Date: 9/1/2008
Following last years number 1, Grammy award winning album We Are The Night, The Chemical Brothers return with Brotherhood a best of collection with a kick and a twist, set for release on 1st September 2008.
I have been a long time fan of the Chemical Brothers and I am very excited by the fact that disk 2 contains 1 - 10 of their musical experiments, the Electronic Battle Weapons. Further, disk one brings 2 brand new tracks, 'Midnight Madness' and 'Keep My Composure'
We wanted machines to sound as if they were sweaty, deranged and wild; things people associate with rock music - *Tom Rowlands, The Chemical Brothers*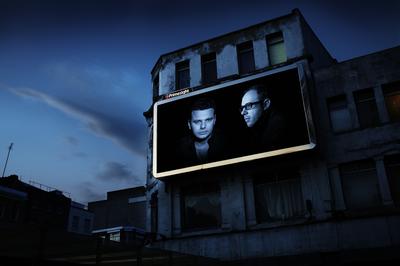 16 years, 10 million record sales and 5 consecutive number 1 albums and 4 Grammy awards would seem the perfect time to take stock of The Chemical Brothers heroic career but Brotherhood, the album that you are holding, makes no claims on being the definitive historical document of Tom and Eds career so far. It is not the time capsule version that will be left and dug up in centuries to come. No, Brotherhood is defiantly the Friday night collection, 15 stone cold classics from Tom and Eds illustrious back catalogue, reinforced and fortified for the floor.
From their formative Dust Brothers years and the honing of their sometimes literally ground-breaking, break-through, big beat calling cards (Leave Home, Chemical Beats and Block Rockin Beats ), The Chems connected/crossed over to a wider audience so credibly like no other dance act since Kraftwerk, they have consistently invented dance music for a rock n roll age, in the mid nineties they become a foil to the nascent Britpop scene, acting to that as Brian Eno was to the glam rock age. In 1999 they performed to the biggest audience ever at Glastonbury (before the super fence went up), in 2005 they further compounded their widescreen popularity when Galvanize became the most played song on the radio that year, and last year they came up with a unique way of moving the pigeons on by taking over Trafalgar Square with their retina scorching live show.
Indeed, throughout their career they have broken free from conventional categorization at every turn, endlessly disproving the post Brit pop End Of The Party theory. Since then, theyve created an eclectic mix of floor fillers drawing from a rich and varied tapestry. From luscious house moves (Hey Boy, Hey Girl, Believe) to the Balearic (Star Guitar), the Psychedelic (Setting Sun, The Golden Path) and the acid warehouse dance party (Saturate, Out Of Control) they have shown that they are unerringly forward thinking, genre transcending, convention defying and dance floor filling not just once or twice but again and again.
New tracks featured on Brotherhood Midnight Madness and Keep My Composure, (featuring the shimmering flow of Baltimores Spank Rock) are classic Chemical Brothers, both sounding wholly timeless, startlingly original and completely different and appealing all at the same time
Alongside the 1st Disc Brotherhood will feature exclusively a second disc of Electronic Battle Weapons 1-10. Since 1996 Electronic Battle Weapons have acted as the laboratories for The Chems devious musical experiments and laid the rhythmic and melodic foundations for numerous tracks as well as providing some of the duos most formidable mixes. Previous EBWs have morphed into It Began in Afrika, Under the Influence and latterly Saturate. Until now Electronic Battle Weapons 1-10 have only been available on various limited formats and this is the first time they have been widely released.
So this, then, is Brotherhood, The Chemical Brothers, out on the floor, totally in control. Here's to sixteen more years. Here's to the future.
[|thechemicalbrothers.com|http://www.thechemicalbrothers.com]
[|The Chems on MySpace|http://www.myspace.com/thechemicalbrothers]
Music Reviews -more-

browse