Sebastian Roya - Compression
Martin Buttrich - Well Done
Kaliber 4 - A1
Audiofly X - Get Lost
A Vivanco - Maison Doiree
Microdinamic - Thunder
Layo & Bushwacka! - Less Is More
Audiofly X - Cold Light Of Day
X-Press 2 Feat Rob Harvey - Kill 100 (Radio Slave Mix)
Stan Lebowsky - Reduce 02
Stefan Bodzin - Cucuma
Sleeper Thief - Freefall
Rekleiner - Real Time
Audiofly - Undulation 2
Label:
SAW Recordings
| Release Date: 10/30/2006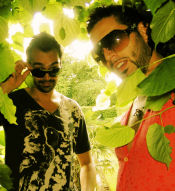 Audiofly are without a doubt one of the hottest production outfits at the moment. With numerous productions, remixes and collaborations to their credit, their music is some of the most far reaching and all encompassing creative output, with releases under their various guises on a string of labels which range from Low Pressings and Deleted Records, through to Sixty Four, Moodmusic, Maschine and SAW Recordings. It's on SAW that they now reappear, set to make their compilation debut with 'Undulation 2', the follow up to the inaugural volume of this SAW Recordings album series by Satoshi Tomiie & Hector Romero.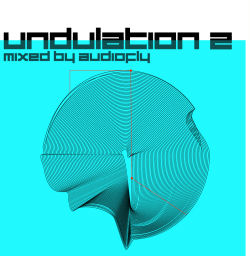 Audiofly are a double dose of pure energy and enthusiasm that would charm the pants off anyone. This dynamic DJ/production duo, Anthony Middleton and Luca Saporito, are the hottest new boys on the block. Born in the UK and Italy, respectively, Anthony and Luca met in London and started working together in early 2002. Their shared taste in music and experiences on the circuit forged a creative bond and a mere four years later, Audiofly have produced and remixed several releases which have built their reputation in the industry. Their combined talent has fostered productions on labels Low Pressings, Deleted Records, Jackit Records and SAW Recordings to name a few. The release of 'Undulation 2' on SAW Recordings is Audiofly's first mixed compilation.
Refined, amiable and simply brilliant, Audiofly have gained the attention of DJs and fans worldwide with their experimental productions and no-holds-barred DJing style. Constantly pushing the boundaries and staying at the forefront of mixing and production, Audiofly are highly praised by the likes of Satoshi Tomiie, Steve Lawler, Sasha, Nic Fanciulli, Danny Tenaglia and Victor Calderone. Their charisma and flare behind the decks have created a buzz since the legendary SAW party at the WMC in March 2006.
"When we started programming the compilation, we were trying to encapsulate in 80 minutes a whole night with Audiofly. It was quite difficult, as our sound flows very organically between genres of 4/4. Sometimes we are deep into a more techno and minimal sound, and then in another moment we might erupt into tear-jerking, Trance-esque melodies. So we just tried to keep our overall effect in mind and tried to shorten the experience into a CD length journey." - Audiofly
With 'Undulation 2', Audiofly's creative vision has created an experimental, cutting-edge compilation. Featuring tracks by Sebastian Roya, Martin Buttrich, Kaliber 4, Layo & Bushwacka, X-Press2, San Lebowsky and Stefan Bodzin, the album is a dark tech house experience that takes the listener on a journey through winding landscapes of sound, forcefully driving you deeper into the mix with every track. Booming bass pads, moody echoes, shadowy synths, EFX and blippy minimal rhythms define this mix. The album is powerful and multi-layered, a deeply percussive excursion into the world that Audiofly knows best – how to captivate a listener from beginning to end with impeccable mixing and programming. 'Undulation 2' also features two productions by Audiofly X, 'Get Lost' (Moodmusic) and 'Cold Light Of Day' (Kandisch). Under the alias Audiofly X, they show their deeper and more minimal side, which was debuted early in 2006, when they produced the EP 'Stolen Goods' as their debut for SAW, which was also then featured on Satoshi Tomiie's 3D Renaissance compilation.
"Well, we'd like to think that the CD has come out in a style which is definitively our own…without being big-headed in any way, we have been trying in both our productions and our DJ sets to develop an Audiofly sound. Obviously, everyone nowadays has access to the same music but we are finding, more and more, that our "delivery" has its own unique flavor, so that's what we were trying to get across on the compilation." - Audiofly

Music Reviews -more-

browse