The Breakfastaz - The Pressure (King Roc Mix)
Jim Shimmer - The Quad (Future Funk Squad & High Eight Mix)
Transformerman - Giant
Baitercell & Schumacher Feat Bex - Lock And Load
Aquasky - Addiction VIP (Chris Carter Mix)
Jim Shimmer - Space Races VIP
Backdraft - Popcorn
Tayo - Wildlife Dub
Agent K - Black Haze (Aquasky Mix)
Noisia - Gutterpump
Infekto - Miami Treble
Aquasky & The Drumattic Twins - Bring It On Down (Aquasky VIP Mix)
Aquasky & Crash Berlin Feat Kool Keith - Moving The Hype Track (Nick Thayer Mix)
Rob Le Pitch - Twisted (Tom Real & Rogue Element Mix)
Aquasky & Elhornet - Girls And Boys (Dylan Rhymes Mix)
The Ragga Twins - Everybody Hype
Aquasky - Breakbeat Bass 2
Label:
Passenger Records
| Release Date: 10/30/2006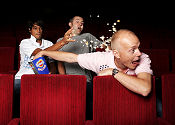 Bassline breaks trio and Annie Nightingale favourites Aquasky have had a busy 2006, with their 10th anniversary artist album 'Teamplayers' released earlier in the year and their recently relaunched website up and running over at www.aquasky.co.uk. Now their return with the follow up to 2005's 'Breakbeat Bass', aplty titled 'Breakbeat Bass 2'. Showcasing some of the label's gems and showcasing the new sound and direction of the label, this mid price compilation is in shops now.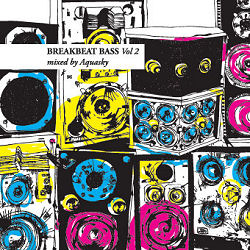 Originally hailed as the home of "bassline breaks" the last twelve months has seen Aquasky's Passenger Imprint go through a number of changes. Not content with being pigeon-holed the Bournemouth based trio who's production career spans an impressive ten years plus have been not-so-quietly pushing things forward by stepping outside of their comfort zone and experimenting with different styles from house to electro to funky breaks - with the odd tear-out bassline thrown in for good measure.
To follow 2005's debut 'Breakbeat Bass', a mix album specifically put together to showcase the label's output and sold in the shops as a mid-price compilation, Aquasky now return with the second instalment in the series to not only showcase what busy boys they've been but also the new direction for the label.
Kicking off with King Roc's excellent remix of 'The Pressure' by Breakfastaz, the album also features previously unreleased tracks, including 'Popcorn' by Backdraft, in addition to some cheeky unreleased VIP mixes featured including Chris Carters remix of 'Addiction VIP' by Aquasky, 'Space Races VIP' by hot new producer Jim Shimmer and the killer sound of Aquasky's VIP mix of their collaboration with Fingerlickin' stars The Drumattic Twins on 'Bring It On Down'.
Also included on the album are tracks from Aquasky's 10th anniversary artist album 'Teamplayers' including 'Moving The Hype Track' by Aquasky & Crash Berlin featuring Kool Keith (remixed by Australian star Nick Thayer) and the recent single 'Girls & Boys' (Dylan Rhymes Mix) by Aquasky & Elhornet (of Pendulum fame) alongside recent label releases from breaks don Tayo and bass trio Noisia, with Tom Real & The Rogue Element's killer remix of Rob Le Pitch 'Twisted' rounding off the bunch.
In addition to coincide with the release of Breakbeat Bass 2 Aquasky proudly launch their brand spanking new website, complete with all the whistles and bells you'd expect from interweb including up to the minute news, discography, shop to buy all your Passenger digital downloads and 12"/CD's, competitions and the weekly free mixes and radio shows. Be sure to check it out at www.aquasky.co.uk.
Music Reviews -more-

browse