Stel - The Nail That Sticks Out
Reset Robot - M Siren
Reset Robot - Continue
Marc Romboy & Mr K Alexi - Acid Love (D'Julz Mix)
Mark Broom - Get Serious (Broom's London Mix)
Brendon Moeller - The Big Thrill
Taster Peter - Metro Sexual
Misstress De Funk - The Labyrinth (Lucca Mix)
Jakiro - Litmus
Erphun - 2wo Butterflies (Quivver Mix)
Patlac & Matthias Meyer - Skipper
Oliver Moldan Presents Prawler - Holy Cow
Bonnici, Pappa & Phil K - Blending With The Ether
Anthony Pappa - Moments 2
Label:
Red Light District
| Release Date: 6/1/2009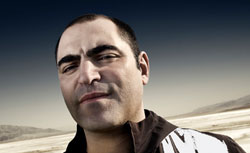 Anthony Pappa's career history is much vaunted, with long term relationships with such revered brands as Global Underground, Renaissance, DMC and EQ just a handful of those on his impressive resume.
In more recent years, he's launched his own Red Light District music imprint, and last year delivered the inaugural 'Moments' compilation to widespread acclaim. Just over one year one, and he is preparing to release a follow up, featuring tracks and remixes from Jim Rivers, Henry Saiz, Stel, and many more, including a brand new collaborative project of his own with the legendary Phil K and Danny Bonnici. Moments 2 is released in June.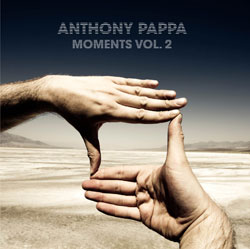 Globetrotting DJ, dance music ambassador, musical aficionado and all round gentleman, Anthony Pappa is all these and more. With a career spanning over 15 years, Anthony is one of the most respected figures on the international club scene and the latest instalment of his Moments mix series proves hes at the top of his game more than ever.
Welcome to Moments Vol 2. The inaugural Moments album was released in 2008 to critical and public acclaim alike, and the second volume delivers an equally accomplished and exhilarating ride and then some. Its a sound that has been forged during his hectic DJ schedule over the last few months and then fine-tuned in the studio. Ever the perfectionist, Anthony has left no stone unturned, both in his search for exciting new music and making it all fit together to dramatic effect.
Theres hardly a country Anthony hasnt played in and thats reflected in the international track listing assembled for Moments 2. Hes secured plenty of exclusive material too including contributions from Greek producers Stel and Dousk, Gabe from Brazil, Russian duo Monaque. As well as good old home grown UK talent from Jim Rivers, Reset Robot & Fergie. Anthony gets involved in the action himself with Blending With the Ether, a new collaboration with fellow Australians Danny Bonnici from Nubreed and technical wizz DJ Phil K.
I do over 200 flights a year all over the world, and thats going to be reflected in my DJ sets. Music comes from everywhere these days and youve really got to keep your eyes and ears open on your travels. - Anthony Pappa
Anthony is no stranger to the mix CD, of course, and has worked with Renaissance, Global
Underground and the Balance series among others. Moments continues that proud tradition and as well as the latest upfront cuts, hes equally at home including tracks that hes been playing out for six months and which still have that special quality. Its all about finding whats a cut above the rest and Anthony has a knack for music that has that extra feeling or spark.
Its about trying to find an album of those special tracks. Those special moments, if you like, and make them all work together. Its been a year since the first Moments came out and the music has moved on; this is Anthony Pappa '09 and the current sound of underground electronic music from house to techno. - Anthony Pappa
As well as compiling Moments 2, Anthonys schedule is as busy as ever. Hes always on the
lookout for new music to sign to his Red Light District imprint and puts together a monthly
Moments show on Proton Radio. Whenever a break in his DJ schedule allows, Anthony hits the
studio and has recently been collaborating with Chad Jackson, another former DMC champion.
As one of the most travelled DJs out there, what keeps Anthonys passion for the music strong?
I love to play and I love the music; I get a real buzz out of making a dancefloor rock and making people happy. The travelling can be hard but once I arrive at the club and put my first track on, what I did to get there becomes irrelevant. Its all about sharing the music you love with people so they can enjoy it. Each time I walk away thinking that was a really good night is special in itself; thats a great moment there and then. - Anthony Pappa
Its all about those special moments enjoy.
Music Reviews -more-

browse