Fly
Here I Come
Colours
Nobody Never
Soto Mundo
PIL
Little Things
Mote
Slipaway
After Hours
2 Bit Pie - 2 Pie Island
Label:
One Little Indian
| Release Date: 9/4/2006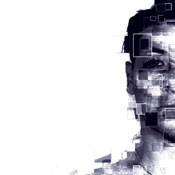 2 Bit Pie is the new project from Jon Fugler and Mike Bryant (of the legendary electronic outfit Fluke) and production genius Andy Gray, in addition to a range of contributors that include Jan Burton from Syntax. Whilst tracks like 'Nobody Never' and 'Here I Come' may already be familar to some, the album draws on a much wider range of collaborators and influences, which long standing fans of Fugler and company, Andy Gray and music fans in general should make a note to check out.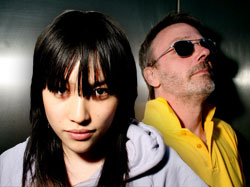 For those hungry for a little nutritional variety in the current diet of
(some great, some not so great) steak and kidney guitar bands, the 2 Bit Pie
should hit the spot nicely…
Though underpinned by inspired electro-guerrillas Fluke, 2 Pie Island boasts
the creative input of many other artists and musicians and the introduction of
Japanese front-girl Yuki could very well be the discovery of the year. The pie
includes names from all walks of musical life, adding spice with big guitars,
some operatic seasoning and even soul flavours. The resulting album is a crash
course in how to achieve the unexpected in a handful of short songs.
Who baked the 2 Bit Pie?
Written and produced by Fluke's Mike Bryant and Jon Fugler together with Andy
Gray (Korn, Oakenfold), lead vocals on 2Pie Island are driven by Fugler and
shared with Yuki. Musical contributions also appear from Jan Burton (Syntax),
Wild Oscar, Robin Goodridge (Bush) and Dilshani Weerasinghe (Royal Opera).
src="images/2-Bit-Pie-2-Pie-Island-2.jpg"
align=right>Most contributors on 2Bit Pie are old friends and the album has been
in the pipeline for some time. Icing on the cake appears in the mesmerizing form
of Yuki, previously singer for Tokyo trip-hoppers She Shell. A chance meeting in
a London recording studio with Fugler led to her performing on the album and
Yuki is now a permanent member of the 2 Bit Pie cast.
And if some of the songs on '2 Pie Island' sound familiar, that's because
tracks have already been snapped up for TV (CSI Miami), computer games (Tiger
Woods) and a soon to be released Hollywood movie starring Clive Owen.
Music Reviews -more-

browse