Lewie Day - Blistering Barnacle
Warbgasm - Dead Arm
Sharam Jey - Dont Lie (Martin Buttrich Mix)
Myers Briggs – Red Cooler
16 Bit Lolitas & Jennifer Horne - Nobody Seems To Care
Spirit Catcher & Compuphonic - Dream Machine
Stallos – Monkfish
Astrid Suryanto - Distant Bar (Gutterstylz Mix)
Dorje - The Music (Dave Robertson Mix)
Doug McCourt - Wave Controls (16 Bit Lolitas Warung Remake)
Haito & Diringer - E-Love
D-Nox & Beckers – Toronto
Interplay - High Love (16 Bit Lolitas Warung Remake)
16 Bit Lolitas - Warung Brazil : 001
Label:
Hope Recordings
| Release Date: 11/3/2008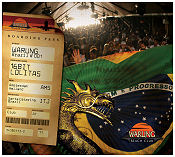 Warung Beach Club in Brazil has long been heralded as one of the top clubs in the world by many of the DJs that have graced the decks there and now the club teams up with Hope Recordings for a brand new series that is set to showcase some of the hottest DJs and acts who grace the decks at the club, starting with the dutch duo 16 Bit Lolitas, Peter Kriek and Ariaan Olieroock who present a double disc mix compilation that fuses together both DJ mix and artist album into one versatile package.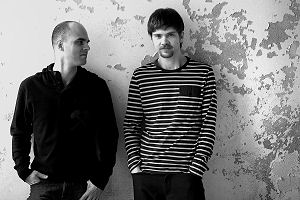 Its not very often that magical music and a magical venue combine to create something more than just special, where the end result is something ultimately joyous, memorable and timeless. Ariaan Aad Olieroock and Peter Kriek (aka 16 Bit Lolitas) the future house heroes from Amsterdam, have been patiently waiting for the right magical moment to showcase their first ultimate collection a bold combination of DJ mix compilation and artist album in one cohesive package. Now they have been asked to launch the Warung, Brazil mix series, celebrating and capturing the magic of Brazils ultimate beach club, theyve put together an exceptional representation of just what makes them the hottest act there.
Every year, thousands of tourists and summer lovers from every corner of Brazil and from all over the world arrive at the well preserved paradise called Brava Beach, in Santa Catarina State, a place blessed with white sand, green forests and crystal clear seas. A perfectly harmonic blend of music, nature and a gathering of very special people may be the best explanation of Warung Beach Clubs magic. But magic is a mysterious thing, and the 16 Bit Lolitas have captured the indefinable essence across these two discs with their exotic musical alchemy.
We always had this dream of creating a Warung cd series. For the first album we decided that 16 Bit Lolitas were the perfect artists, considering their history at the club and their amazing tracks and remixes. But above all is the friendship and respect between us and Ariaan and Peter. When we heard their idea for the album, we knew we were right about this feeling. Gustavo Rassi (Warung Beach Club, Brazil)
If you havent got Warung Beach Club on your places to visit before I die list, you really should add it now. Make sure its a party when 16 Bit Lolitas are playing, and it just might be the recipe for the one of the best club nights of your life.
Dream on

Music Reviews -more-

browse