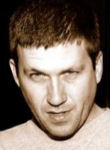 posted on August 22, 2005
'Hallucienda' is the the new mix CD from noted New York-based producer and DJ, Three, and is the culmination of both the last three years work into the Hallucination Limited record label and the last 11 years of being involved with Hallucination Records.

The album is Hallucination's first 'official' mix cd and captures the genre bending diversity of both Three's sets and the output of his 'Limited' label, featuring some exclusive and unreleased tracks from the label. Our news feature gives you the full tracklist, and comments from Three on this upcoming compilation.