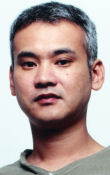 posted on November 30, 2005
Renaissance have been known for producing quality albums for well over the past decade, with each series they have introduced being held in high regard. From the early days and the inaugural 'Mix Collection' series through to the introduction of the 'Masters' series at the turn of the millennium, the label has continously proven it's legacy. With the recent launch of the Frontiers series comes the annoucement of another new series to launch in early 2006.


'3D' is a triple cd compilation that focuses on three different sides of the featured DJ. CD1 is the 'Club Disc, whilst CD2 is the 'Studio Disc', a collection of tracks, remixes and exclusive edits, with CD3 being the 'Home Disc', a selection of home listening choices from the DJ away from the decks. Satoshi Tomiie is the first DJ to take the helm of the series, and all the information on this forthcoming opus is right here.